Switzerland Kicked Off 2018 With Faster Than Expected Growth
(Bloomberg) -- The Swiss economy started the year with faster-than-expected growth and investment figures suggest companies are upbeat about their prospects.
The expansion of 0.6 percent was in line with the previous quarter and exceeded the 0.5 percent median estimate of economists. Consumer-spending growth rose at its fastest pace since 2016, while investment in equipment hit a six-year high.
Eric Scheidegger, head of the SECO's economic policy directorate, said the stronger domestic demand "reflects Swiss companies' optimism about the global economy." He also noted the "development of the exchange rate in the first quarter," when the franc declined against the euro.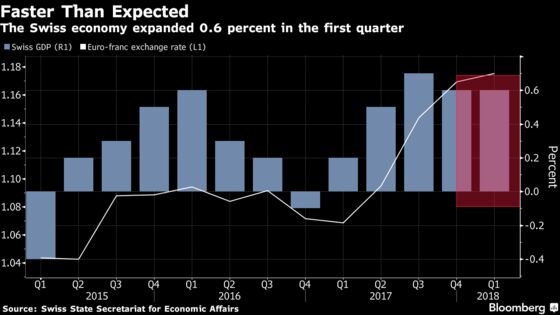 Swiss economic momentum picked up in 2017 as the euro-zone economy had its best year in a decade and the currency depreciated, helping exports and reviving the once-blighted manufacturing sector. While growth has held up so far this year, risks related to Italian politics and U.S. foreign policy have fueled a renewed appreciation of the franc, which may undermine one support for the economy.
One warning sign this month was the KOF economic barometer, which fell to its lowest since late 2015. Still, other measures, such as a Credit Suisse gauge of economic expectations, have risen.
For now, there's a positive outlook for 2018. According to Bloomberg's latest monthly survey, economic growth will accelerate to 2.1 percent, which would be the fastest growth in four years.
In the first quarter, Switzerland's economy also got a boost from the Winter Olympics in South Korea. The country is home to the International Olympic Committee -- as well as FIFA and UEFA -- and calculating GDP requires tournament revenues and fees to be booked in the country where the organizations are located. Excluding the Olympic effect, the Swiss economy grew 0.4 percent in the three months.
The SECO data showed that equipment investment surged 3.6 percent in the quarter, while government spending contracted 0.3 percent. A jump in imports means that net trade proved a slight drag on GDP.
"It's not a signal of a slowdown for industry, it's just a normalization," said Raiffeisen economist Alexander Koch, who forecasts a 2018 growth rate just over 2 percent for the economy as a whole. "Favorable momentum should continue, you see that in the sentiment indicators."
Though the franc is weaker than a year ago -- and even reached the symbolic 1.20-per-euro level last month -- the Swiss National Bank isn't toning down its rhetoric or showing any hurry to drop its loose monetary-policy position.
The recent appreciation has taken the franc to 1.15. SNB President Thomas Jordan said in an interview published this week that foreign exchange markets remain "fragile."