Share of U.S. Small Businesses Boosting Compensation Hits Record
(Bloomberg) -- More U.S. companies are finally starting to boost wages as they grow more desperate to fill positions with qualified personnel in a tightening labor market.
The net share of small-business owners who said that they raised compensation in May climbed 2 percentage points to 35 percent, the highest in monthly records back to 1986, according to a National Federation of Independent Business report on Thursday. Transportation, communications, construction, manufacturing and financial services were among the industries with the highest increases in compensation.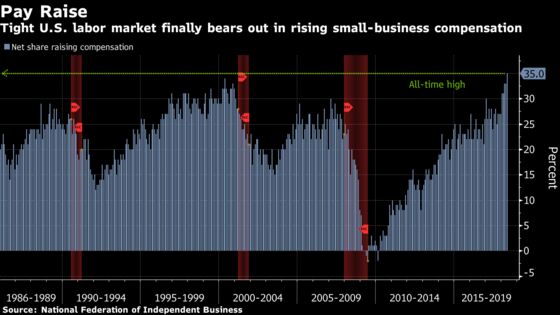 With job openings at an all-time high, 23 percent of small-business owners cited the difficulty finding workers with the necessary skills and qualifications, the highest share since 2000.
The NFIB report was based on a survey of 562 respondents through May 25.
Twenty-nine percent of respondents said they have openings for skilled workers, the third-highest reading since 2000, according to the NFIB. Reports of job availability were most frequent in construction.