Guts of Inflation Data Show Why Fed Hesitant to Declare Victory
(Bloomberg) -- U.S. inflation is back at the Federal Reserve's 2 percent target after spending most of the last six years below it. The pickup has been driven by factors not necessarily linked to the strength of the economy, which means there's no guarantee that it will stay there for long.
The Fed's preferred gauge of price pressures, based on personal consumption expenditures, rose 2 percent in April on a year-over-year basis for the second month in a row, according to a Commerce Department report published Thursday. The gain in so-called core inflation, which excludes volatile food and energy costs and is used by central bankers as a proxy for underlying inflation pressures, remained at 1.8 percent.
Last summer, the annual increase in the core gauge was as small as 1.3 percent even as the unemployment rate was declining, causing concern among Fed officials that the traditional relationship between strong labor markets and rising inflation was breaking down.
The rebound in recent months has erased much of that concern, even though it's been on the back of changes in prices of certain goods and services that in the past have not correlated well with the unemployment rate, according to San Francisco Fed research. For the first time since 2013, the majority of core inflation in April was comprised of these so-called acyclical price pressures.
On the other hand, so-called procyclical inflation -- prices that in the past have tended to accelerate as unemployment declined -- has been decelerating.
The rise in acyclical inflation since mid-2017 has mostly been due to the costs of health care, mobile-phone services -- which fell a lot last spring and have been normalizing -- and the cost of financial services.
The deceleration in procyclical price pressures since early last year, meanwhile, has mostly been driven by a drop in the costs of goods and services purchased by nonprofit organizations, and less inflation in prescription drugs and recreational activities. Housing and food services and accommodations, which round out the procyclical basket, have also seen a slight pullback in price pressures since then.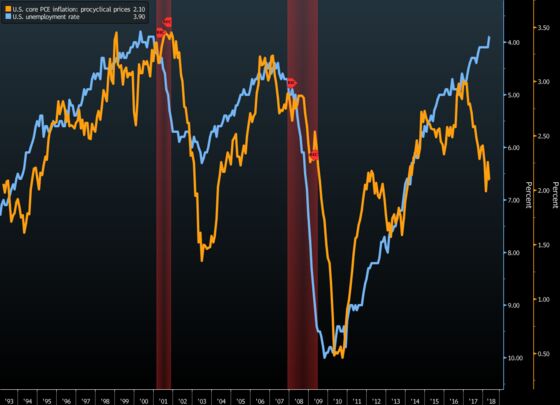 Fed officials, over the last month or so, have been cautious about declaring victory on achieving their inflation goal. The composition of the recent increase may be a big reason for that.
Minutes of the Fed's May 1-2 policy meeting, published last week, revealed that "several participants suggested that the underlying trend in inflation had changed little, noting that some of the recent increase in inflation may have represented transitory price changes in some categories of health care and financial services."
That may also explain why U.S. central bankers have been suggesting that if inflation were to rise above 2 percent in the coming months, it wouldn't necessarily be a reason to raise interest rates faster. If inflation is already slowing for goods and services that are sensitive to faster employment growth, such a course may not make much sense.