Euro-Area Inflation Picks Up to Fastest in More Than a Year
(Bloomberg) -- Euro-area inflation hit the fastest pace in more than year, some good news for European Central Bank officials debating the future policy path just as turmoil in Italy revives memories of the debt crisis.
The 1.9 percent rate, effectively in line with the ECB's goal, was up from just 1.2 percent in April and above the 1.6 percent reading forecast by economists. The core measure rose to 1.1 percent, also better than anticipated.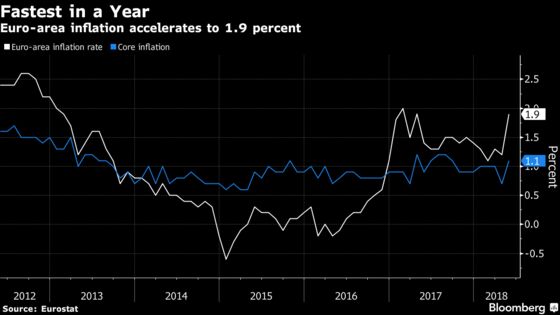 Stronger-than-anticipated figures in Germany and Spain on Wednesday hinted at an upside surprise, with the rate in the former reaching a 15-month high. The euro stayed higher after the euro-zone data, and was up 0.1 percent to $1.1681 as of 12:24 p.m. Frankfurt time.
While higher oil prices played a part, the inflation pickup is welcome news for the ECB, which holds its next policy meeting in exactly two weeks' time.
What Our Economists Says
"While the largest driver of the move was energy prices, underlying price pressures may be firming as well. That should provide President Mario Draghi with the confidence to hint at asset purchases coming to an end this year at the June press conference, even though GDP growth has slowed."

--David Powell and Jamie Murray, Bloomberg Economics

For full Euro-Area React, click here
Officials led by President Mario Draghi haven't yet ruled out announcing a gradual reduction in asset purchases at that gathering. Executive Board member Sabine Lautenschlaeger said this week that June "might be the month to decide once and for all" to end the program, pointing to resilient and robust economic growth.
A bevy of recent indicators are challenging that view, hinting instead that momentum may be coming off the boil. Any softening could be exacerbated by a hit to confidence stemming from Italy's festering political crisis. Other downside risks include an international trade dispute or a standoff between the U.S. and North Korea.
Although it titled its latest economic assessment "Risks Loom Large," the Organization for Economic Cooperation and Development issued upbeat projections this week. It sees euro-area growth of 2.2 this year, with inflation averaging 1.6 percent. In what policy makers are bound to consider good news, the Paris-based body said as a result of job creation and labor shortages, there were "clear signs that wages are finally on the way up."
Declines in joblessness, particularly in crisis-hit countries such as Spain, have helped fuel wages and are expected to continue to underpin consumption. Euro-area unemployment fell to 8.5 percent in April, a separate report on Thursday showed. That compares with 9.2 percent a year ago.