Walmart's Tuition Play Comes as Choosy Employees Head for Exits
(Bloomberg) -- Walmart Inc.'s offer to fund college degrees for its U.S. employees comes as businesses nationwide fight against growing turnover among workers.
Job-quitting rates have risen as unemployment has plummeted and Americans have gained the confidence to become more selective about where they work, spurring companies to pursue creative solutions to engender employee loyalty. Walmart's move echoes Starbucks Corp.'s tuition policy, and is particularly important because with a workforce of 1.5 million, the behemoth retailer is the nation's largest private employer.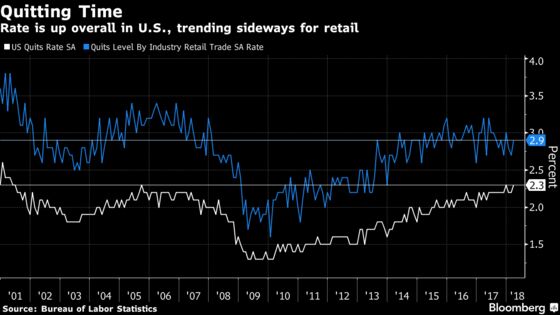 At 2.9 percent in March, the retail quits rate is below pre-recession highs, but it has risen substantially since the depths of the crisis. The quits rate among all workers is back to 2005 levels, as the chart above shows.
The tuition program will be offered to part-time staff as well as full-timers, and it's the latest push in a broader effort to attract and retain workers: The company boosted its starting hourly wage to $11 earlier this year, among other measures. Walmart and Sam's Club employees can choose from three schools for online or in-person classes, and there's no requirement to continue working at Walmart for any period after receiving the degree.