Swedish Economic Expansion Now Longest in at Least Four Decades
(Bloomberg) -- Sweden's economy grew for a 19th consecutive quarter, marking the longest expansion since at least 1980 as recovering global demand and more than three years of record monetary stimulus stoke output and consumption.
Gross domestic product advanced 0.7 percent in the first quarter, beating the 0.5 percent estimate in a Bloomberg survey of economists. GDP grew 3.3 percent from a year earlier, matching the estimate. The krona gained 0.3 percent to 10.31 per euro as of 10:22 a.m.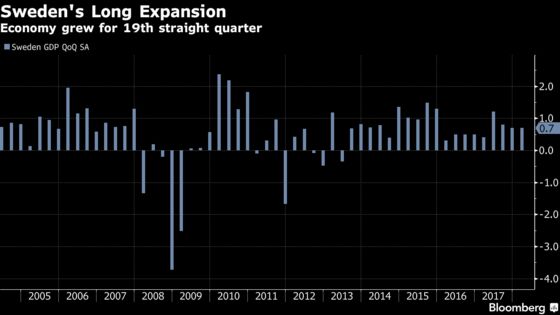 Home to companies such as Ericsson AB and Volvo AB, Sweden is now in the longest economic upturn over the past four decades. The boom has driven employment to a record high level and public debt to the lowest since 1977, all the while Sweden accepted a record number of migrants.
"I think in terms of growth figures that we probably have seen the best of it," said Robert Bergqvist, chief economist at SEB AB. At 3.3 percent, the economy is expanding almost 1.5 percentage point above normal, he said.
Signs are now emerging that the expansion has reached its peak. A drop in home prices has dented construction as well as consumer confidence, which this month fell to the lowest in almost two years. The central bank has flagged it will start raising interest rates from a record low of minus 0.5 percent toward the end of the year after unleashing record stimulus to stabilize inflation.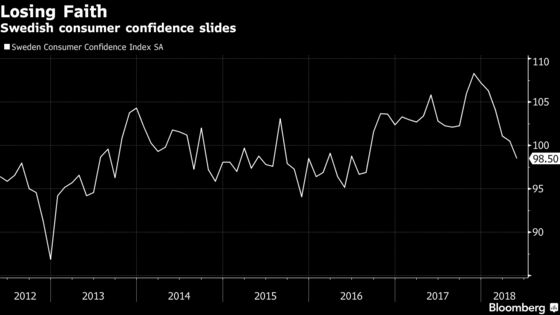 Consumer spending rose 0.9 percent in the first quarter while investments gained 2.8 percent, according to Statistics Sweden. Exports slid 0.2 percent after surging at the end of last year.
Anna Breman, chief economist at Swedbank AB, said the economy is still "looking good" with strong growth in consumer spending and increasing disposable incomes.
"This is good news for the Riksbank," she said. "The economy is still steaming ahead and households are staying strong. So it's possible we will see a little higher inflation going forward."
Risks may also emerge from the turmoil currently engulfing Italy, according to Bergqvist.
"There's a risk that the political situation in Italy can have consequences for the European economy," he said. "That would of course affect Sweden."