Risks 'Loom Large' in Global Economy Seeing Best Growth in Years
(Bloomberg) -- The OECD presented another upbeat set of projections in its latest assessment of the global economy, but was very clear that there are a growing number of threats.
"Risks loom large" was the headline of its latest outlook, published in Paris on Wednesday, and the global backdrop this week provided plenty of reason to heed their warnings. Political turmoil in Italy has revived memories of the euro crisis, sending yields on the nation's debt surging and European stocks tumbling.
The Italian crisis is just one of a litany of hazards that have the potential to trip up the world economy, which is enjoying its strongest growth in years. For the OECD, it joins a list that includes trade tensions, higher oil prices, elevated asset prices and debt levels, emerging market volatility and Brexit.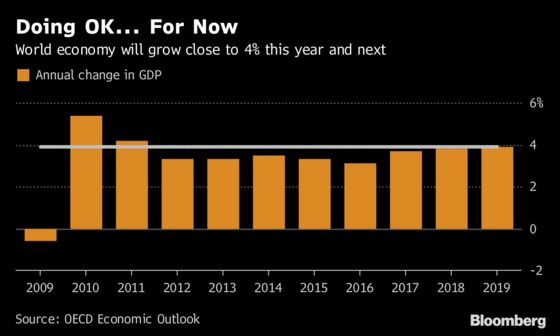 Italian bonds stabilized on Wednesday after the previous day's meltdown, when the yield on the 10-year debt surged almost half a percentage point. The euro advanced 0.4 percent, after dropping to a 10-month low on Tuesday.
On the broad economic picture, the OECD is maintaining a positive view. It sees the U.S. economy expanding close to 3 percent in both years, with the euro-area rate above 2 percent. It forecasts that the Federal Reserve will raise interest rates to 3.25 percent by the end of 2019 from 1.75 percent currently.
Global expansion, predicted to be close to 4 percent this year and next, is the best since 2011, and unemployment in the OECD area will fall to the lowest since 1980. The GDP forecast for 2018 was trimmed slightly versus an interim assessment in March.
"Thanks to this robust job creation and the related intensifying labor shortages, we are now projecting a rise in real wages in many countries. This increase is still somewhat modest. However, there are clear signs that wages are finally on the way up. This is an important development, since the global crisis had a severe impact on household incomes."

--OECD Economic Outlook, May 2018
In its assessment, the OECD repeated calls for reforms to increase productivity growth, competition and labor-market skills. Acting chief economist Alvaro Santos Pereira said that "in spite of stronger growth, there is no time for complacency."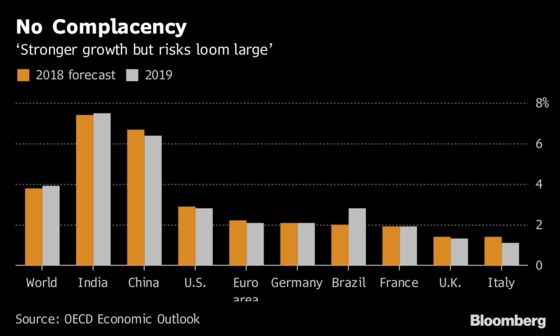 The need for reforms was echoed by OECD Secretary General Angel Gurria in a Bloomberg Television interview on Wednesday morning.
"Let's pat ourselves on the back for a short while, and then remember that we are running out of monetary policy room and fiscal policy room. Let's focus on the question of structural change. There seems to be some fatigue to pursue structural policies. There should be no fatigue. It's indispensable to underpin the recovery that countries continue with their structural change policies."

--Angel Gurria