Japan's Factory Output Rises Less Than Expected in April
(Bloomberg) -- Japan's factory output rose less than forecast in April, adding to concerns about the strength of the economy following a contraction in growth during the first quarter. A sharp drop in production of electronic components and devices was cited as a factor.
Highlights
Industrial production rose 0.3 percent in April (forecast +1.4 percent) from March, when it gained 1.4 percent.
Year-on-year output grew 2.5 percent (forecast +3.6 percent), compared with a 2.4 percent rise in March.
Output is projected to rise 0.3 percent in May from April, and fall by 0.8 percent in June.
Overseas demand helped drive a two-year expansion in Japan's economy before a contraction in the first quarter of this year. Overall global demand is expected to remain solid, but the smartphone-driven tech cycle responsible for so much of Asia's recent growth is cooling, and the effects were seen in Japan's April factory output. Economists expect Japan's expansion to resume this quarter, but risks include heightened trade frictions and U.S. protectionism, including threatened auto tariffs.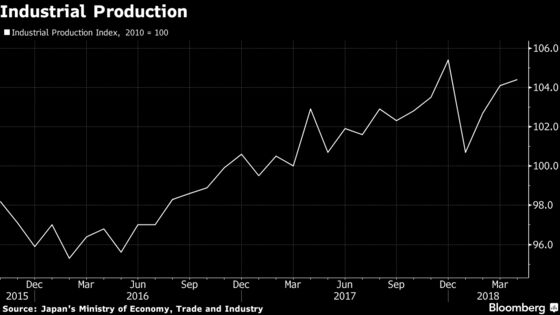 "This suggests Japan's soft patch may be longer or deeper than expected," said Hiroaki Muto, chief economist at the Tokai Tokyo Research Center. "Production for electronic devices was one key driver of the weakness, partly reflecting weak global demand for smartphones."
"This is bad timing because concerns in financial markets are already heightened because of Italy," Muto said. "More evidence of weakness in the economy could make investors step back and think that we may have more things to worry about."
"I think today's numbers were a bit of a mixed bag," said Marcel Thieliant, senior Japan economist at Capital Economics Asia in Singapore. "But obviously the economy's entering the second quarter with strong momentum with three consecutive increases. So even if we get a bit of weakness in May and June, almost certainly the economy will grow this quarter."
The U.S. auto tariffs are obviously the biggest trade-related threat, Thieliant said. "If they get imposed, probably firms will shift some of their production overseas, to their U.S. manufacturing centers."