Gold Risks Dereliction of Duty Charge as Turmoil Sees No Reward
(Bloomberg) -- Gold's age-old reputation as a haven is taking a beating.
Although bullion's had everything going for it this week -- from turmoil in Italy and sliding equity markets to a renewal of trade tensions and rethink of the outlook for U.S. rate hikes -- prices are still languishing near the lowest this year. Even a warning of peril from investor George Soros didn't lend a hand.
The yellow metal hasn't made any headway in 2018, and is poised to close out back-to-back monthly losses in May despite the risk aversion now rippling through markets. The reason lies in the greater appeal of U.S. Treasuries and a rising dollar, according to Stephen Innes, head of trading at Oanda Corp.
"The stronger dollar is the most significant headwind, but with the European fixed-income meltdown in full swing, investors are rushing into the safety of U.S. Treasuries," Innes said by email. "So this flight to U.S. fixed-income shelters is underpinning the USD, and tarnishing gold's allure to a degree."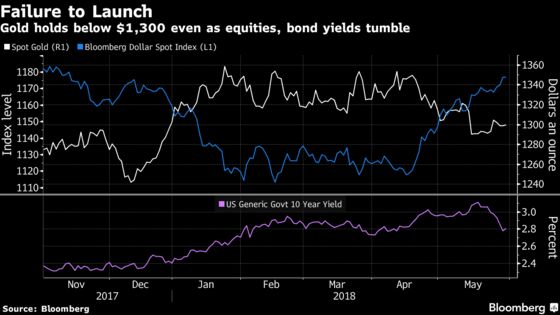 Spot bullion, which hit a 2018 low of $1,282.18 an ounce last week, was flat near $1,300 on Wednesday while the Bloomberg Dollar Spot Index traded near a November high. On Tuesday, yields on 10-year Treasuries sank 15 basis points, the most since the U.K. voted for Brexit in 2016, but gold was static.
Still, Innes isn't quitting on bullion just yet. "I'm staying in gold as the downside is limited given the plethora of geo-risks on the table," he said.