German Joblessness Falls to Record Low Despite Signs of Slowdown
(Bloomberg) -- German unemployment fell to a fresh record low as companies in Europe's largest economy stepped up hiring to work through backlogs even amid signs of slowing growth.
The jobless rate dropped to 5.2 percent in May, the Federal Labor Agency in Nuremberg said on Wednesday. The number of people out of work fell by a seasonally adjusted 11,000 to 2.358 million, exceeding the decline of 10,000 predicted in a Bloomberg survey of economists.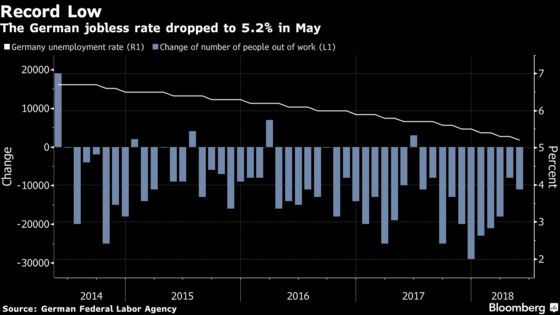 The country's export-oriented economy has benefited from a global recovery and is forecast to see the strongest annual expansion in 7 years in 2018, but recent data from the wider euro area hint at a loss of momentum. While the slowdown has been attributed to temporary factors like weather and sickness, a report last week showed new orders rose at the weakest rate in almost three years in May.
That could indicate underlying demand is cooling. Even so, Germany's Bundesbank said in its latest monthly report that growth will probably pick up again as company investments are set to increase further, and that private consumption will continue to expand markedly thanks to the solid labor market. The backlog of work that factories have accumulated is enough to keep them humming for more than five months, according to data from the Federal Statistics Office.
Demand for new workers remains high, with almost 800,000 open positions registered at the labor agency. Joblessness fell by about 10,000 in west Germany and by some 2,000 in the eastern part of the country.
Data on euro-area unemployment will be published on Thursday and are forecast to show a drop to 8.4 percent, the lowest in more than nine years.