German Inflation Jumps Above 2% as ECB Eyes the Path Ahead
(Bloomberg) -- Germany showered the 19-nation euro area with a flurry of good economic news as political uproar in the region's south threatens to weigh on the outlook.
Inflation in Europe's largest economy jumped to 2.2 percent in May, exceeding the rate the European Central Bank aims to achieve for the entire region. Unemployment fell to a record low of 5.2 percent, economic sentiment improved after three consecutive declines and retail sales rose for the first time since November.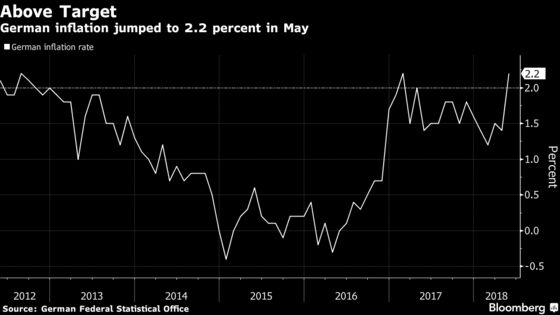 French, Italian and Spanish confidence proved less robust this month, with a European Commission index showing declines for all three nations. In Spain, the minority government is under serious threat, while Italy is facing a populist-sparked political turmoil that's even raised the specter of a break-up of the single currency.
The political crises come as policy makers are considering when and how to unwind unprecedented stimulus. They also have to take into account lackluster data in the euro zone that's prompted some economists to lower growth estimates and push back forecasts for interest-rate increases. So far, ECB officials have reiterated confidence in the region's economic prospects and reiterated their view that euro-area inflation will pick up.
"We are seeing that the pace of growth has become more moderate, but we are not seeing a turning point," ECB Executive Board member Sabine Lautenschlaeger said late Tuesday. "I believe that all we need is a bit of patience. All the conditions for inflation to kick in are in place."
In Germany, the inflation reading was higher than the 1.8 percent median forecast in a Bloomberg survey.
Before the data, economists predicted that the euro-area inflation rate would jump to 1.6 percent from 1.2 percent in April. That's now subject to upside risk, after inflation also accelerated more than expected in Spain.
The ECB's Governing Council holds its next policy meeting on June 14. While officials aren't ruling out an announcement at that time that asset purchases would be scaled back later this year, Italy's political stalemate may delay a decision.
Concern about Italy send yields on the nation's debt soaring on Tuesday, while the euro declined. Both reversed on Wednesday, with the single currency rising 0.8 percent.
But in the latest twist in Italy, League leader Matteo Salvini dismissed an offer from the anti-establishment Five Star Movement to revive efforts to form a populist government, calling instead for early elections without revealing who he might form an alliance with.