Foreigners Sold $3 Billion of Russia Debt in Sanctions Scare
(Bloomberg) -- Foreign investors offloaded about 200 billion rubles ($3 billion) worth of Russian local-currency bonds since fresh U.S. sanctions last month created uncertainty about how vulnerable the market is to more penalties.
Non-residents now own about 31 percent of the government's outstanding ruble securities, known as OFZs, Bank of Russia First Deputy Governor Ksenia Yudaeva said at a news briefing in Moscow on Wednesday. That's down from a record of more than 34 percent earlier this year.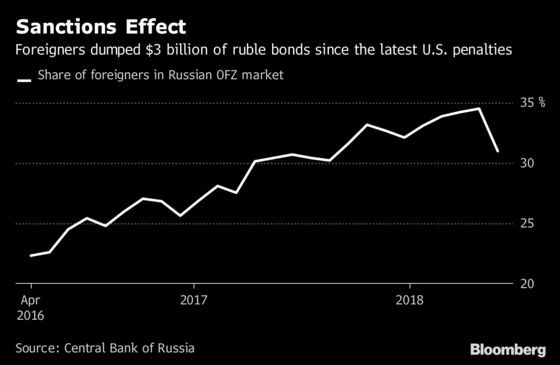 Although Russian sovereign bonds weren't the target of the harshest American sanctions on Russian assets and individuals to date, the surprise U.S. move raised concern among some investors that the OFZ market could be hit next if relations between Washington and the Kremlin continue to deteriorate. The Treasury has softened its position since the April penalties by outlining a path to lift curbs on companies controlled by Russian billionaire Oleg Deripaska.
Yudaeva said that while most of the selling came immediately after the penalties, it continued into May "due to a broader pullback from emerging-market assets." Russian local-currency debt has handed investors a loss of 7.9 percent in dollar terms since the sanctions were announced, according to Bloomberg Barclays emerging-market index, which lost 5.9 percent over the same period.
Russia's central bank said in a report last week that foreigners dumped record volumes of OFZs on April 9-10, the two trading days after the sanctions hit. The Russian government is putting together a special entity to better manage the fallout from sanctions in the future, Deputy Finance Minister Vladimir Kolychev said in an interview last week.