Euro-Area Economic Confidence Slips Amid Budding Political Risks
(Bloomberg) -- Euro-area confidence extended its slide in May as cooling economic growth in the region was met with budding political uncertainties.
The European Commission's index of sentiment slipped to 112.5 from 112.7, taking the gauge to its lowest in nine months. While the decline was less than economists had forecast, it's the fifth straight drop after optimism reached a 17-year high in December.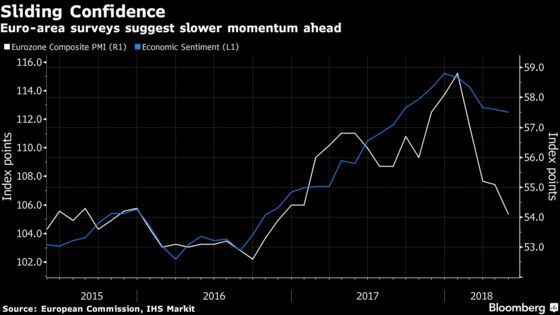 In Germany, the region's largest economy, the confidence gauge stabilized, while it declined in France, Spain and Italy. The euro area's business climate index improved for the first time in four months.
The report follows several months of lackluster data in the 19-nation currency bloc, with Italy's descent into political turmoil now adding to the risks for the economy. Populist leaders in the country are making a last-ditch attempt to form a government and avoid another election after earlier efforts failed.
So far, European Central Bank officials have reiterated confidence in the region's outlook, and most have remained quiet on Italy beyond reminding the country of its commitment to European rules after this week began with a bond sell-off. Investors, meanwhile, are once again contemplating the survival chances of the euro, with a gauge measuring the risk of a breakup jumping in May.
| | Actual | Survey | Prior |
| --- | --- | --- | --- |
| Economic Sentiment | 112.5 | 112.0 | 112.7  |
| Industry | 6.8 | 6.8 | 7.3 |
| Services | 14.3 | 14.3 | 14.7 |
| Consumer | 0.2 | 0.2 | 0.3 |
A Purchasing Managers' Index published last week signaled that economic activity continued to slow in May, while inflation data due on Thursday are expected to show an upturn in price pressures. That will likely be the result of more expensive oil, a weaker currency, and a rebound in travel costs that will also lift the core rate of inflation.