EU Prepares for Trade Brawl as Trump's Tariff Deadline Looms
(Bloomberg) -- The European Union is bracing for President Donald Trump to open another front in his confrontation with the bloc, as the EU's top negotiator prepares for the U.S. to impose either tariffs or quotas on metals imports from America's closest allies.
Commerce Secretary Wilbur Ross will hold a press briefing at 9 a.m. Washington-time on Thursday to discuss "Section 232 tariff modifications," his department said in an emailed statement. The remarks will be embargoed until the end of the call.
Trump slapped 25 percent tariffs on imported steel and 10 percent on aluminum in March, but granted a reprieve to the EU, Canada and Mexico until June 1 for further talks to take place. EU Trade Commissioner Cecilia Malmstrom met Ross in Paris on Wednesday in a last-ditch attempt to reach a compromise.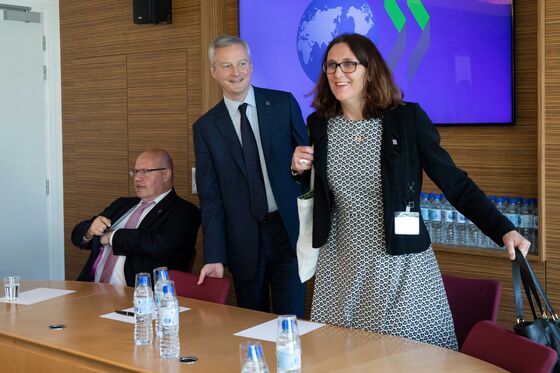 Fears of a global trade war are mounting as the Trump administration also considers tariffs on U.S. auto imports and duties on $50 billion in Chinese imports. The International Monetary Fund has warned that a wave of protectionist forces are the biggest risk to the global economic outlook.
Malmstrom said that she doesn't think the EU will get a full reprieve from tariffs or quotas. "Hopefully we will be able to have a positive agenda with the U.S. side, with no tariffs or quotas," she told the EU Parliament on Tuesday, a message she reiterated after her meeting with Ross. "Realistically, however, we do not think we can hope for that."
Canadian Trade Minister Francois-Philippe Champagne said in an interview that any duties on his country would be "unacceptable" and that they would work until the final deadline to find a solution.
"A full exemption -- we are going to seek that until the last minute," Champagne said in an interview in the French capital, adding that tariffs would create consequences on both sides with respect to consumer prices and the supply chain. "Obviously, we would respond to protect our workers and our industries, like people would expect us to do."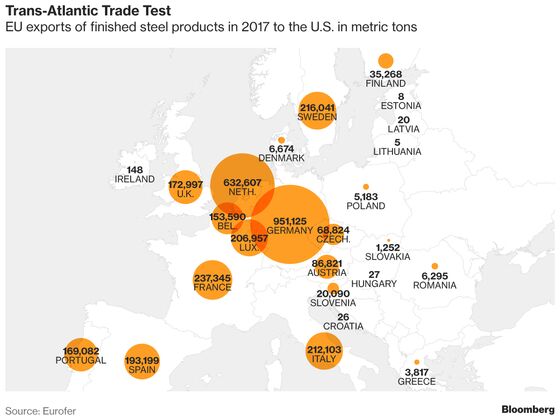 U.S officials have been floating three different scenarios over the past four weeks, according to EU diplomats familiar with the negotiations:
Allowing a temporary waiver granted to the EU to expire at midnight tonight, which would mean the imposition of a 25 percent levy on steel and 10 percent on aluminum exported to the U.S. The Wall Street Journal reported on Wednesday that this is Trump's decision.
Setting a soft quota level, after which the tariffs would kick in. The latest U.S proposal was for a quota set at 90 percent of last year's exports, and was rejected by the EU, which seeks a threshold set at least at 100 percent of last year's exports.
Setting a hard quota after which European steel and aluminum exports would be completely banned.
If the tariffs do take effect, the EU has said it will lodge a complaint with the WTO and impose retaliatory tariffs on 2.8 billion euros ($3.3 billion) of American imports as soon as June 20. Malmstrom said the details of the U.S. decision will guide the EU's response.
"We as the European Union have a clear position -- we believe these tariffs are not compatible with WTO rules," German Chancellor Angela Merkel told reporters in Lisbon on Thursday. "We'll respond in a smart way, decisively and jointly, but I don't want to pre-empt the response, because we don't have the decision yet."
The steel entanglement comes after the U.S. withdrew from the Iran nuclear deal and the Paris climate accord. Tensions are also escalating between the U.S. and China. The White House said on Tuesday it's moving ahead with tariffs on $50 billion of Chinese imports despite a recent trade truce.
Canada and Mexico have also been pushing for full exemptions. Canadian Foreign Minister Chrystia Freeland on Wednesday said the country would respond "appropriately" to any tariffs. Canada is the biggest supplier of steel and aluminum to the U.S.
Mexico's Economy Minister Ildefonso Guajardo said that he already met with Ross and would have another session with U.S. Trade Representative Robert Lighthizer. "We are ready to have an option for any action," he said in an interview in Paris.
Trump has justified the metals duties by invoking a national security provision under Section 232 of a 1960s trade law.