Emerging Local Bonds Look Cheap to JPMorgan Asset After Rout
(Bloomberg) -- After a brutal couple of months for emerging-market local sovereign debt, JPMorgan Asset Management is starting to see value.
Countries where relatively low inflation has buoyed real yields -- Indonesia, Brazil and South Africa -- are particularly attractive, said Didier Lambert, a portfolio manager at JPMorgan Asset in London. Argentina is also looking "interesting" now and China's onshore debt market will benefit from inclusion in global indexes, he said in an interview in Hong Kong.
Elevated U.S. Treasury yields and a surging dollar have taken the shine off developing-nation notes and pushed down currencies. A Bloomberg Barclays gauge of emerging-market domestic government bonds has fallen 5.8 percent so far this quarter. The notes have staged a partial revival over the last few days as the U.S. 10-year yield dropped back below the 3 percent threshold.
"When we look at emerging-market currencies in a broader context, they are cheap to us," said Lambert, who manages $2.5 billion of domestic developing-nation bonds. In countries where inflation has been falling, the yields haven't fully reflected this, he said.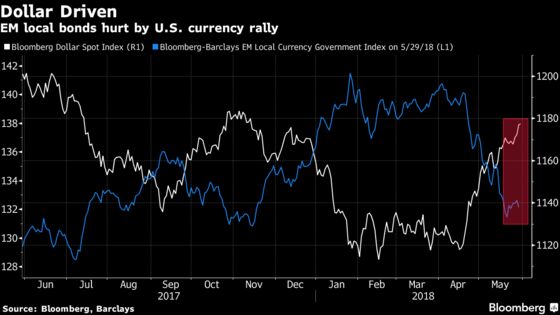 Here's what else Lambert had to say in an interview in Hong Kong last week:
Low core inflation and the prospect of gains when Indonesia is included in the Bloomberg-Barclays bond index is providing a good entry point for investors. The stable political environment, good economic fundamentals and the likelihood there won't be too many rate increases are the main reasons for JPMorgan's slight overweight on the notes, Lambert said before Bank Indonesia raised its policy rate in an unscheduled meeting Wednesday.
The yield spread between Indonesia's 10-year bonds and similar-maturity Treasuries should narrow by at least 100 basis points over the next six to 12 months, Lambert said, adding that the Treasury yield would likely rise to 3.25 percent in three to six months.
Argentina is starting to look interesting after big declines, and has moved from overvalued to undervalued, according to JPMorgan Asset's valuation model. The asset manager reduced its holdings of Argentinian bonds before the selloff and now sees opportunities to rebuild its position. The political situation is more stable than it used to be and it's mainly a question of currency risk.
"So the only point we are waiting for now is whether the International Monetary Fund is going to step in to help the country," Lambert said.
In a rising-yield environment, it's best to have a bit less duration. But in South Africa, where there's around 200 basis points of spread between the short end and the very long end of the curve, the long end is still attractive, Lambert said. A real yield in Brazil of 6 percent to 7 percent provides more buffer from higher real yields in the U.S.
China's onshore bond market may get around $200 to $300 billion of passive inflows if it's included into all three major debt indexes. "We're looking at an economy which is still growing at 6.5 percent or more, the deficit isn't big and with contained inflation.," Lambert said. "I think we still have time to get into the onshore market ahead of the passive money."
While the spread between Malaysian bond yields and Treasuries had widened quite a bit, JPMorgan Asset wants to see the Southeast Asian nation's yields rise a bit more, Lambert said. "Something is missing to feel really interested in that market at the moment."