Crisis-Weary Central Banks Brace for Turmoil as Italy Slips
(Bloomberg) -- Just when central bankers thought they were about to get out of the business of emergency economic stimulus, jittery financial markets are threatening to pull some of them back in.
For the European Central Bank, the latest threat requiring vigilance is political turmoil in Italy that's reviving memories of the debt crisis that threatened to fracture the euro area. The Bank of England's path is complicated by Brexit and, across emerging markets, central banks are trying to push back against the strong dollar.
The People's Bank of China recently eased liquidity conditions for banks, while Indonesia's central bank is forecast to hike rates at an extraordinary policy meeting on Wednesday.
The Federal Reserve is a bit of an outlier -- it's already well along its plans to normalize rates in the U.S. and investors still see a hike in mid-June as a virtual certainty. But beyond that meeting, the market turbulence from Italy is clouding the outlook for further Fed rate increases, according to trading Tuesday in the federal funds futures market.
The problem for policy makers everywhere is the uncertainty about Italy's prospects may drag on for months until another election is held, possibly in September. That vote, which may be perceived as a referendum on the country's European future, could even have repercussions for the Fed's plans to raise rates in the second half of the year.
"September has become the question mark" for the Fed, said Paul Richards, president of Medley Global Advisors, a policy research firm. "Now you've got this whole bunch of geopolitical risk. They, and the ECB in October, are going to have to make decisions, right at the time you're going to have Italian elections. This geopolitical risk is really going to start putting September in question."
For now, eyes are turning to the ECB as the political struggles in Italy worsen and populist parties begin mobilizing for another election campaign. That sent note yields surging to levels not seen since 2012.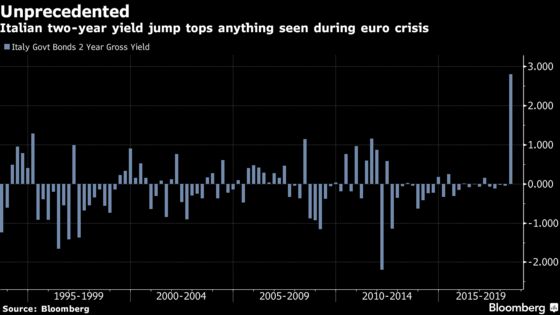 Markets stabilized somewhat on Wednesday. Italian bonds rebounded, with the 10-year yield falling as much as 19 basis points. The euro rose 0.6 percent after touching a 10-month low on Tuesday. The Stoxx Europe 600 Index was down 0.2 percent.
Policy makers shouldn't get lured into hasty action on Italy because of stress in the markets, according to Angel Gurria, the head of the Organization for Economic Cooperation and Development.
It was only eight weeks ago that International Monetary Fund Managing Director Christine Lagarde stood before an audience in Berlin and said the euro-area recovery "has finally turned into a sustained and broadly shared upswing."
Now, Italy is always just a few steps away from the "very serious risk of losing the irreplaceable asset of trust," its central bank governor, Ignazio Visco, warned in a speech in Rome on Tuesday.
Meanwhile, outgoing ECB Vice President Vitor Constancio offered a reminder that the bar for any intervention was high, stressing that it must meet "specific conditions" and advising Italian leaders to "carefully" read those rules again.
"I doubt they can do a ton," said Roberto Perli, a partner at Cornerstone Macro LLC in Washington.
While officials at the Frankfurt-based monetary authority may want to avoid wading into a politically sensitive debate on a country's future role in the euro region, there may still be repercussions for policy.
If the market ructions increase borrowing costs and tighten financial conditions, that could feed into the broader European economy, hurting confidence and demand. With the euro-area economy already cooling, that could influence the ECB's debate on the winding down of asset purchases, due to happen this year. Still, Bank of France Governor Francois Villeroy de Galhau said recently that officials won't delay normalization "to accommodate debt problems of any member state."
In Turkey, policy makers are trying to regain control in their battle with markets, bringing forward plans to end a much-criticized multi-rate structure after weeks of pressure on the lira and concern that the economy is overheating. The move follows an extraordinary meeting of the central bank's monetary policy committee last week, where it stepped in to raise rates by 300 basis points to 16.5 percent.
While the Turkish lira has faced some of the toughest battering in emerging markets, Asian central banks are also looking at how to tackle their own currency depreciation.
Indonesia's central bank raised interest rates at an early policy meeting on Wednesday. The second hike in two weeks comes before the Fed's expected tightening move on June 13.
Fed Chairman Jerome Powell has pushed back against claims that gradual rate increases in the U.S. are to blame for any roiling of emerging-market economies. In a speech on May 8, he said the Fed isn't the major determinant of flows of capital worldwide and that emerging markets are well-placed to navigate shifts in U.S. policy.
He did though note that "risk sentiment will bear close watching as normalization proceeds around the world."
At the BOE, the approach of Brexit looms large over decision making. Governor Mark Carney told economists at an event last week that Britain's exit from the European Union is a "regime shift that has markedly increased the range of possible outcomes for the U.K. economy and therefore the potential paths of monetary policy."
Even as central banks across the globe are facing fresh pressures, the ECB bore the brunt of market stress on Tuesday amid concern Italy could exit the euro, potentially triggering its breakup.
If government bond yields rise another 100 basis points -- after having climbed by that amount over the past two and a half weeks alone -- the country's mound of debt would over time become too expensive to finance, according to Bloomberg Economics' calculations.
"Everything that could go wrong has gone wrong," billionaire investor George Soros said in a speech in Paris. The world "may be heading for another major financial crisis," as it faces a surging greenback, capital flight from emerging economies and imminent existential threat to the European Union, he said.