U.S. Companies Add Fewer Jobs Than Forecast, ADP Data Show
(Bloomberg) -- American businesses added fewer workers than forecast in May as companies struggled to fill open positions, according to data released Wednesday by the ADP Research Institute.
Highlights of ADP Employment (May)
Private payrolls increased by 178k (190k est.) after a downwardly revised 163k April advance (prev. 204k)
Payrolls in goods-producing industries, which include manufacturing and construction, climbed 64k  
Service providers added 114k workers to payrolls
The smaller ADP reading portends a potentially less robust jobs report from the Labor Department on Friday. The unemployment rate is projected to hold at 3.9 percent for the month, according to the median estimate of economists.
Payrolls in service-providing industries added the fewest number of jobs since September, the ADP data showed. The report is based on ADP's payroll data, representing about 411,000 firms employing almost 24 million workers in the U.S.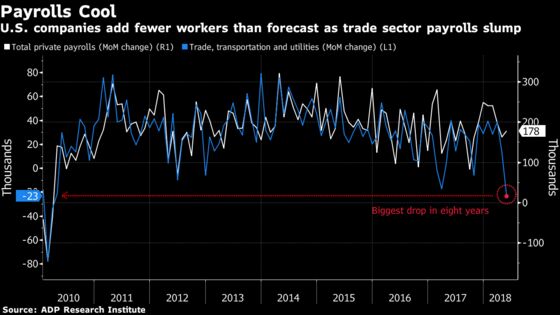 "Job growth is strong, but slowing, as businesses are unable to fill a record number of open positions," Mark Zandi, chief economist of Moody's Analytics Inc. in West Chester, Pennsylvania, said in the statement. Moody's produces the figures with ADP. "Wage growth is accelerating in response, most notably for young, new entrants and those changing jobs. Finding workers is increasingly becoming businesses number one problem."
Construction payrolls increased 39,000
Employment in trade and transportation dropped 23,000 in May, the biggest decrease since March 2010
Professional and business services took on 61,000 workers, and leisure and hospitality added on 33,000 employees
Large firms, those employing 500 or more workers, increased staffing by 56,000 jobs; payrolls rose by 84,000 at medium-sized businesses, or those with 50 to 499 employees; and small companies added 38,000 jobs