U.S. Consumer Confidence Increases, Bolstered by Labor Market
(Bloomberg) -- U.S. consumer confidence rose in May to a three-month high as a strong job market helped send views on the current state of the economy to the best in 17 years, according to figures Tuesday from the New York-based Conference Board.
Highlights of Consumer Confidence (May)
Confidence index rose to 128 (matching est.) from downwardly revised 125.6 in April (prev. 128.7)
Present conditions measure advanced to 161.7, highest since March 2001, from 157.5
Consumer expectations gauge increased to 105.6 from 104.3
Bigger after-tax paychecks and a healthy job market are helping to sustain confidence, which is also supporting gains in consumer spending. Sentiment may nonetheless face headwinds such as higher gasoline costs and mortgage rates, along with wild cards including trade tensions. In addition, a sustained pickup in wages remains absent even with the unemployment rate at the lowest level since late 2000.
The report showed 42.4 percent of respondents saw jobs as plentiful, the biggest share since March 2001, while 38.4 percent said business conditions were good, the best since December 2000. While Americans' views of current business and labor conditions improved, their opinions about the outlook were only slightly more upbeat. As a result, plans to purchase cars, homes and major appliances cooled in May.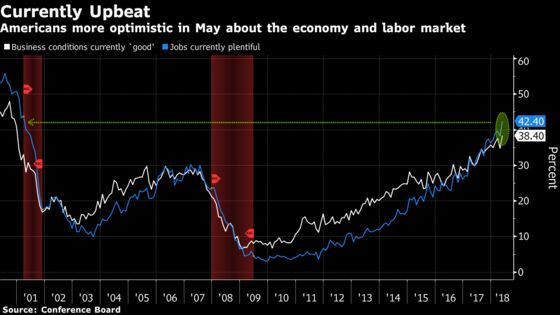 "Overall, confidence levels remain at historically strong levels and should continue to support solid consumer spending in the near-term," Lynn Franco, director of economic indicators at the Conference Board, said in a statement. At the same time, the improvement in short-term expectations was only modest, "suggesting that the pace of growth over the coming months is not likely to gain any significant momentum."
23.1 percent of consumers said they expect better business conditions in next six months, down from 23.6 percent in April
Share of households who expect incomes to rise in next six months was 21.3 percent, after 21.8 percent
Share who said more jobs will be available in coming months rose to 19.7 percent from 18.6 percent