PBOC's Yi Says China's Capital Account Opening Must Be Gradual
(Bloomberg) -- People's Bank of China Governor Yi Gang said policy makers should press on with efforts to open the financial sector, ease foreign exchange restrictions and gradually relax restrictions on cross-border transactions.
Reaching full capital-account convertibility will be a long and slow process, Yi said Tuesday in a speech to the 2018 Annual Conference of Financial Street Forum in Beijing. He also cautioned against too abrupt an opening, citing Thailand's 1997 financial crisis. China will ensure that such reforms will be pushed ahead "gradually, steadily", he said.
"In this new era, our financial sector still has a lot room to open up relative to the requirements of economic and financial development," Yi said. "The three reforms -- opening up the financial sector to internal and external firms, exchange rate mechanism, and capital account convertibility -- have to be coordinated and pushed ahead together."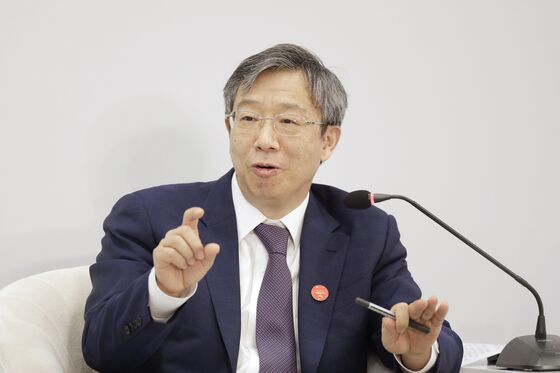 While China pledges to further open the economy, strict capital controls remain in place in the wake of turbulence caused by a shock currency devaluation in 2015. That's weighed on ambitions for more internationalization of the yuan, which made up 1.62 percent of global transactions in March, down from a high of 2.79 percent in August 2015.
"Yuan internationalization requires steady progress on capital account convertibility," Yi said. "If many capital account items are restricted, then the financial sector opening is only in name instead of in reality. Only when our capital account is basically convertible and that our financial sector opens up in both ways, will our currency mechanism and the entire financial sector achieve a coordinated development."