Italy May Be Headed for July Vote as Cottarelli Stumbles
(Bloomberg) -- Italy may be headed toward snap elections as early as July after the latest attempt to form a government saw premier-designate Carlo Cottarelli leave a meeting with the president without an agreement on a cabinet team.
A failure by Cottarelli, who will meet head of state Sergio Mattarella again on Wednesday, could force the president to dissolve parliament, leading to elections within 60 to 70 days.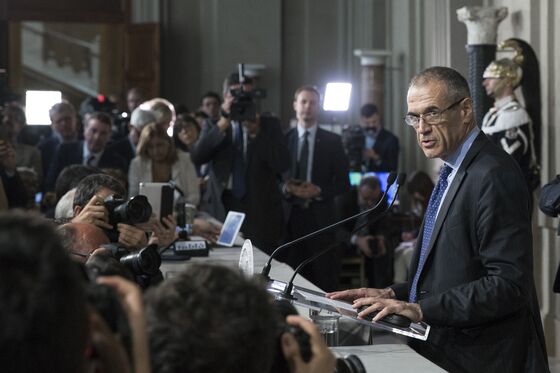 Pressure among Italian lawmakers from various parties mounted on Tuesday to hold elections as soon as possible. Newswire Ansa reported that Cottarelli's efforts have been stalled by the parties demanding a vote on July 29.
No mention has been made of Cottarelli giving up on his attempt to form a new government, according to a senior state official who declined to be named, commenting after the meeting with Mattarella. The prime-minister designate needs more time to solve issues with his proposed list of ministers, the official said.
Mattarella tapped Cottarelli, a former International Monetary Fund executive, as potential prime minister after he blocked a government supported by a populist coalition amid growing market pressure over Italy's government debt.
Cottarelli had been expected to announce a cabinet on Tuesday afternoon but from the beginning it was clear he would not win a confidence vote in Parliament, where the anti-establishment the Five Star Movement, the anti-immigrant League, and ex-premier Silvio Berlusconi's Forza Italia party announced their opposition.
Even the prospect of a new caretaker government leading Italy into fresh elections in the fall grew dimmer on Tuesday as the Democratic Party of outgoing premier Paolo Gentiloni signaled its readiness for a vote as early as possible.
The renewed bout of political uncertainty comes amid a sell-off in Italian assets that pushed the spread between Italian and German 10-year bonds to the highest level in five years.