India Monsoon Arrives Early in Kerala, Sowing to Gather Pace
(Bloomberg) -- The southwest monsoon, which waters more than half of India's farmland, arrived on the mainland ahead of its normal schedule.
The monsoon reached the southern state of Kerala on Tuesday, according to a statement on the India Meteorological Department's website. The department had accurately predicted an onset date of May 29 for the June-September rainy season, which typically starts on June 1.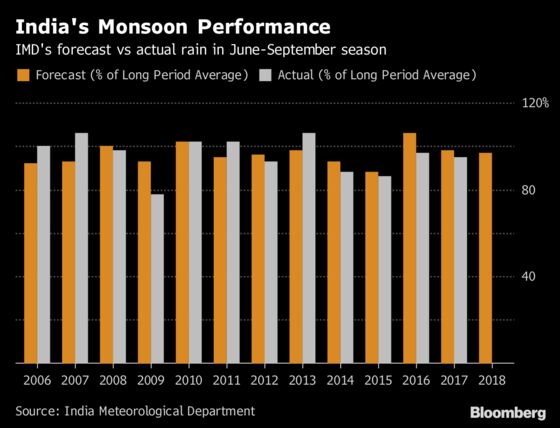 Early showers will help farmers to start planting of major crops such as rice, soybeans, cotton and pulses. The monsoon is critical to India's agriculture as it accounts for more than 70 percent of annual rain and recharges reservoirs that help irrigate crops. Any deficit in the rainfall during the early part of the season could delay sowing and hurt crop growth.
"Timely rain will boost acreage and in turn increase agricultural production," said Veeresh Hiremath, head of research at Hyderabad-based Karvy Comtrade Ltd. "That's going to be negative for crop prices."
Conditions are favorable for the monsoon's further advance in the remaining areas of Kerala and some parts of coastal and south interior Karnataka during next 48 hours, according to the statement.
The meteorological department has predicted a normal monsoon this year, with total rain during the four-month period seen at 97 percent of a 50-year average. Rainfall between 96 percent and 104 percent of the long-term average is considered normal.
Adequate showers in the first month of the rainy season are critical for crops in India, where about 800 million of the 1.3 billion population depend directly or indirectly on farming. The country is the world's top grower of cotton and the second-biggest producer of wheat, rice and sugar.