Bond Traders' Confidence in Fed Rate Path Crumbles Amid Turmoil
(Bloomberg) -- The latest bout of market turmoil is denting investor confidence in how aggressively the Federal Reserve will tighten policy this year.
Activity in options on eurodollar futures shows traders are starting to unwind bets that the central bank will hike four times in 2018. The evaporation of that wager, which implied one more increase this year than indicated in officials' quarterly projections, is also apparent in rallying fed funds futures.
The upheaval emanating from Italy comes at a time of uncertainty for traders in interest-rate markets. These short-maturity contracts were already gaining after last week's release of the minutes from the Fed's May meeting, which referenced a possible tweak to the mechanics of how officials set monetary policy.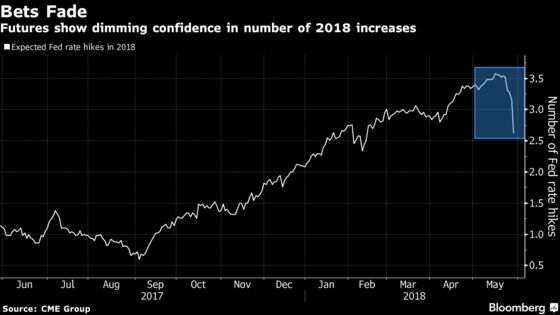 "Now that the Fed has injected modest uncertainty, market participants are just doubting -- doubting the Fed and their expectations," said Thomas Simons, a money-market economist at Jefferies LLC. "We're very likely back to the markets pricing one rate hike at a time."
Activity across December 2018 eurodollar options on Tuesday signaled a partial exit from a trade initiated in the first quarter that targeted four Fed hikes for 2018. The liquidation over the morning session in the U.S. was for around 50,000 contracts, according to traders in London and Chicago. The full position was more than double this, suggesting more chips remain to be taken off the table.
The rally in fed funds futures started on May 23 after the minutes' release. Add in the global market turbulence and the haven buying of Treasuries, and the implied rate on the January 2019 contract is down to 2.07 percent, from 2.295 percent on May 22.
That swing suggests that the odds of one more 2018 rate hike, after June's widely anticipated increase, have tumbled. Before the minutes, fed funds futures were fully pricing a third rate increase by September, and starting to factor in a fourth by year-end.