Stocks Rally as Fading Italy Woes Sink Treasuries: Markets Wrap
(Bloomberg) -- Stocks rebounded along with Treasury yields as investors judged the market reaction to Italy's political turmoil overwrought. The dollar dropped and oil climbed.
The S&P 500 Index gained the most in more than three weeks as U.S. 10-year yields pushed above 2.84 percent, boosting financial shares that had sold off on Tuesday amid fears Italy may leave the euro. West Texas crude surged above $68 a barrel, lifting energy companies. The greenback saw the biggest decline in nearly three weeks.
In Europe, Italy's 10-year yield fell as much as 32 basis points after the country successfully passed a key test of appetite for its debt and as politicians made a last ditch attempt to form a government. The euro rose, as German jobs data topped estimates and strong CPI readings across Europe added to the sentiment.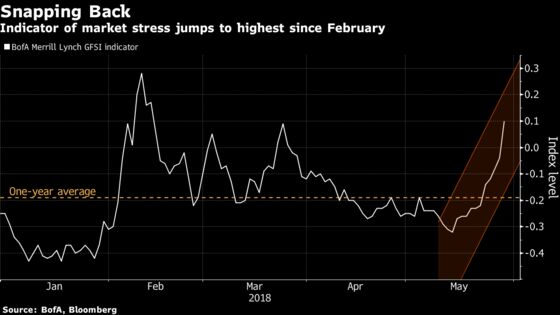 Traders are catching their breath after the unprecedented Italian bond slump spilled over into global risk assets. While the prospect of snap Italian elections -- which could effectively become a referendum on the euro -- continues to loom, some investors see the selloff as overdone while the timing of any vote remains unclear. Still, the concerns add to a growing list that includes the strength of the global economy, North Korea and simmering trade tensions.
"Italy failing to form a government, the markets were on edge and it happened to just crack and perhaps the reaction was a little bit out-sized," Aaron Clark, portfolio manager at Boston-based GW&K Investment Management, said by phone. "We're seeing a little bit of a reversal today, not a full reversal, but there's still some lingering concerns to be sure."
Investors are also keeping an eye on the White House, with the Trump administration plowing ahead with plans for tariffs on Chinese goods and giving conflicting signals on talks with North Korea.
Elsewhere, oil rose after a string of declines in the wake of major producers' plans to step up output. Saudi Arabia, Kuwait and the U.A.E. will meet in Kuwait City on Saturday to discuss supply.
Terminal users can read more in Bloomberg's Markets Live blog.
These are some key events to watch this week:
EU trade chief Cecilia Malmstrom and U.S. Commerce Secretary Wilbur Ross are scheduled to meet Wednesday in an informal World Trade Organization ministerial in Paris.
The U.S. employment report for May is due Friday. It's the last before the June Fed meeting.
Automakers report May U.S. sales the same day.
Also Friday: some onshore Chinese stocks join MSCI Inc.'s global indexes.
On Saturday U.S. Secretary of Commerce Wilbur Ross will travel to Beijing for more talks with Vice Premier Liu He on topics including ZTE Corp. and trade.
These are the main moves in markets:
The S&P 500 Index rose 1.3 percent to 2,724 as of 4 p.m. New York time, the most since May 4.
The Nasdaq Composite Index gained 0.9 percent.
The Stoxx Europe 600 Index advanced 0.3 percent.
The MSCI Emerging Market Index sank 1.1 percent to the lowest in almost six months.
The Bloomberg Dollar Spot Index fell 0.6 percent, the largest decrease in almost three weeks.
The euro climbed 1 percent to $1.1660.
The British pound advanced 0.3 percent to $1.3282.
The Japanese yen dipped 0.1 percent to 108.90 per dollar.
The Turkish lira jumped 1.7 percent to 4.4721 per dollar, the strongest in almost two weeks.
The yield on 10-year Treasuries gained six basis points to 2.84 percent, biggest rise in two weeks.
Germany's 10-year yield rose 11 basis points to 0.37 percent.
Britain's 10-year yield gained six basis points to 1.257 percent.
Italy's 10-year yield sank 25 basis points to 2.916 percent.
West Texas Intermediate crude gained 2.5 percent to $68.39 a barrel, the first advance in more than a week.
Gold increased 0.3 percent to $1,302.64 an ounce.