They're Whispering the D-Word in Asia's Junk Market
(Bloomberg Opinion) -- Country Garden Holdings Co. has a message for Asian debt junkies — the party's over.
China's largest real estate developer may need to return to the dollar bond market after suspending a planned 20 billion yuan ($3.1 billion) sale Tuesday. The firm, no stranger to the offshore world, already squeezed in $850 million of issuance in January, just before a worldwide sell-off.
This isn't good news for the region's junk-rated issuers. The spread over their U.S. peers widened this month, and investors are now asking for an average 6.8 percent yield, from as low as 5.1 percent in January.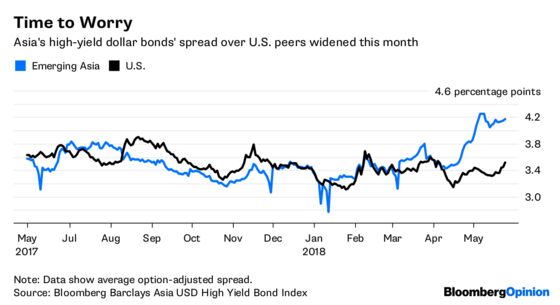 There are casualties across Asia. The 2022 and 2026 bonds of PT Lippo Karawaci Tbk, an Indonesian developer, tumbled 6.7 percent and 13.8 percent respectively this year, matching the dismal performance of China's Kaisa Group Holdings Ltd., which has a history of defaults.
The Federal Reserve is not entirely to blame; after all, the U.S. 10-year Treasury yield stabilized below 3 percent recently.
Actually, it's China's fault: Non-investment-grade issuers from the mainland have already raised more than $30 billion, following a record $77 billion last year. China Inc. now has half the weighting of the Bloomberg Barclays Asia USD High-Yield Bond Index.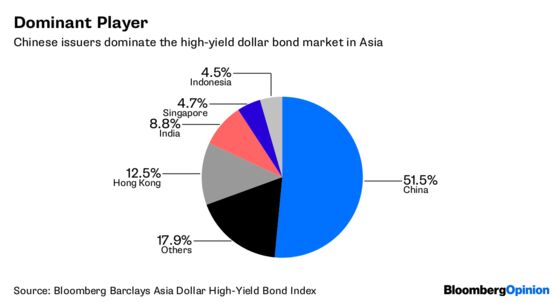 So if China sneezes, the rest of Asia gets sick. Global fund managers hesitate to deviate substantially from their benchmarks; the most likely action is fleeing the asset class altogether. Already, in the last month, global funds pulled more than $5 billion from emerging-market bonds, data provided by Jefferies Group show. 
And it looks like China may be catching something worse than a little cold: The feared D-word is being whispered. Beijing has already allowed China Energy Reserve & Chemicals Group Co. (which counts state oil behemoth China National Petroleum Corp. as a major stakeholder) to default, as well as a financing vehicle in Inner Mongolia. Will the authorities blink if private-sector enterprises miss their obligations? 
China is now on track to achieve an unhappy annual record. There have already been 19 bond defaults this year, totaling $3.1 billion.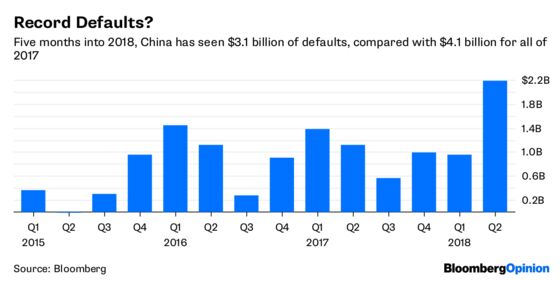 The nation's real estate developers are ready to flood the market beause liquidity is so tight back home. According to CLSA Ltd., even big property companies are being charged 20 percent above the benchmark lending rate, with smaller firms facing a 60 to 80 percent penalty, if they can get funding at all. Some must fall back on three- to six-month bridge financing at an 18 percent annual rate. 
China's government could halt this disruptive force if it wished. Its companies need approval from the National Development and Reform Commission to issue offshore bonds.
It's unrealistic to expect such altruism, though. So be afraid for Asia's junk bond market.