Spain Nominates Career Central Banker De Cos for Governor
(Bloomberg) -- Spain's government nominated Pablo Hernandez de Cos to head the country's central bank, backing an internal candidate with years of experience at the institution.
Hernandez de Cos, 47, has spent the past decade at the Bank of Spain, where he was most recently director general for economics. He worked as an economist there from 1997 to 2004 and was also at one point an adviser to the Executive Board of the European Central Bank.
The government described Madrid-born Hernandez de Cos as an "excellent candidate," citing his "technical capacities in the areas of banking and monetary policy." Speaking to a parliamentary committee on Tuesday, Economy Minister Roman Escolano referenced his expertise and impartiality.
"This is an ideal candidate, who is independent from any government affiliation," Escolano said. "Spain wants to lead and influence decision making in this new phase of European integration, that's why we need to have the most qualified representatives in key institutions."
Hernandez de Cos will succeed Luis Maria Linde, who is retiring on June 11, and he takes over with the economy in far better shape: Growth is forecast to be about 2.7 percent this year -- faster than the euro-area average -- which is a far cry from where it was when Linde took over in 2012. Back then, the economy was shrinking and the government was forced to seek a bailout for its banks.
"He will be joining the institution at a very different time and the challenges are obviously different but equally relevant," said Robert Tornabell, professor of banking and finance at ESADE. "He will have to guide the country as the ECB prepares to unwind its stimulus program and normalize policy."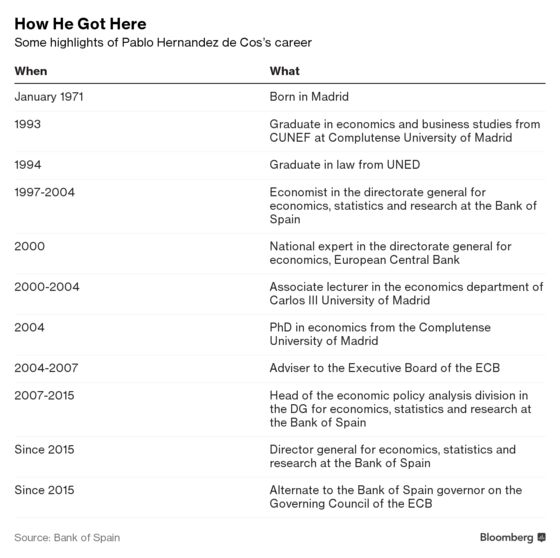 While the economic backdrop is favorable, Spain is facing a political crisis after the Socialists, the biggest opposition group in the parliament, filed a no-confidence motion against Prime Minister Mariano Rajoy.
With the vote due on Friday, centrist Albert Rivera -- who's propped up Rajoy's minority government -- has said he'll work to force Rajoy out unless he calls a snap election later this year. Yields on Spanish 10-year debt jumped, touching the highest since
October. The two-year yield is at the highest in almost two years.
Escolano said it's important the appointment of Hernandez de Cos isn't delayed, arguing he must be present at the ECB policy meeting set for June. Rajoy will confirm the nomination to King Felipe and the appointment should be completed before June 8, Escolano said.
As head of the central bank's research department, Hernandez de Cos has often advocated for further reforms to boost Spain's competitiveness and insisted on budgetary discipline with a focus on reducing the deficit.
While his credentials and technical background make him a consensus candidate, the appointment may renew criticism about the lack of gender parity in central banking. Just last week, ECB Executive Board member Benoit Coeure called on governments to do more for diversity and appoint more women to top jobs.
The position of Bank of Spain governor -- which carries a seat on the ECB's policy-setting council -- has a term of six years and isn't renewable.