ECB Tests Flavors of Inflation as Big Policy Discussion Looms
(Bloomberg) -- This isn't the inflation the European Central Bank is looking for -- but it is inflation.
Figures this week are forecast to show euro-area consumer-price growth could have reached its fastest since early 2017 on the back of more expensive oil and a rebound in travel costs. The cost of crude and a weaker euro are also set to bolster a more significant set of numbers out in June -- new ECB projections that will help policy makers determine whether the time has come to scale back asset purchases.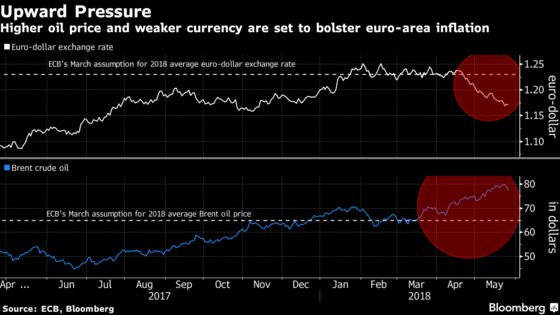 Some Governing Council members have signaled their confidence in the inflation path is sufficient to consider ending bond buying this year. An upward revision in forecasts may convince other officials who so far haven't seen enough progress to start discussing an exit strategy.
Policy makers' assessment is complicated by an economic slowdown in the 19-nation euro region. Long shrugged off as temporary, a range of indicators have hinted at something more protracted. There's also developments in Italy, where the prospect of new elections has increased after premier-designate Giuseppe Conte gave up on forming a government.
"They seem to be very strongly-minded to end net asset purchases and it will probably take more for them than this recent weakness to go for another extension," said Nick Kounis, an economist at ABN Amro in Amsterdam. "A higher headline rate creates a nice kind of window-dressing."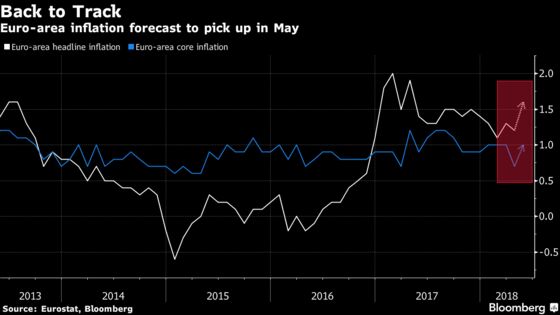 A survey of economists puts the median estimate for May inflation at 1.6 percent, up from 1.2 percent in April. Some, including Bloomberg Economics, even see it hitting 1.8 percent. Price growth in Germany, France, Italy, Spain is also forecast to pick up, largely reflecting external or seasonal effects.
Core inflation is seen rebounding to 1 percent, a level it has hovered around for the better part of the past four and a half years.
The headline rate this month was propped up by the timing of Easter. Prices tend to surge in the run-up to the holiday before declining in the following weeks. Last year, those effects stretched into May, creating a base effect.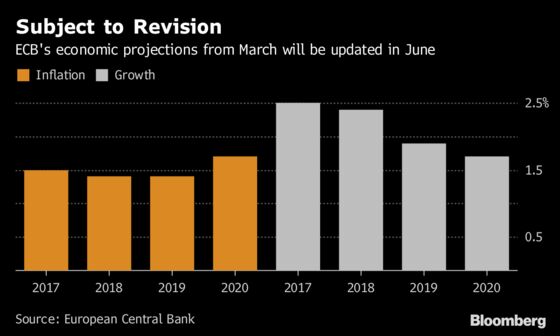 In a bigger scheme of things, oil has jumped 20 percent since the ECB produced its March projections, though it fell late last week after Saudi Arabia and Russia announced a new policy to revive output. The euro has lost more than 5 percent against the dollar and some 2 percent in trade weighted terms in the same period.
Florian Hense, an economist at Berenberg, calculates that could add as much as 0.4 percentage point to the ECB's inflation forecasts over the next 12-18 months, although actual revisions for 2018 and 2019 may be smaller. The central bank currently predicts an average rate of 1.4 percent for both years.
"This may not be a pickup in underlying price pressures but it may kindle the debate," he said.