Yuan Comforts Analysts as China-U.S. Yield Gap Dwindles
(Bloomberg) -- The China-U.S. yield gap narrowing beyond Yi Gang's "comfortable" range will prove no deterrent to further reserve ratio cuts in the world's second-biggest economy, analysts say.
China's 10-year bonds yield just 70 basis points more than Treasuries, near the smallest premium since 2016. The People's Bank of China Governor in April described a 90 basis-point gap as "comfortable", and noted that an 80-100 basis point spread had persisted between the sovereign curves even as the Federal Reserve raises rates.
That raises the question of whether there's still room to reduce lenders' reserve requirement ratios, given the last cut in April spurred the biggest drop in China's 10-year yield since December 2016. Wang Yifeng, a researcher at China Minsheng Bank in Beijing, says the yuan holds the answer. Its resilience means the PBOC will be relaxed about RRR cuts, he says.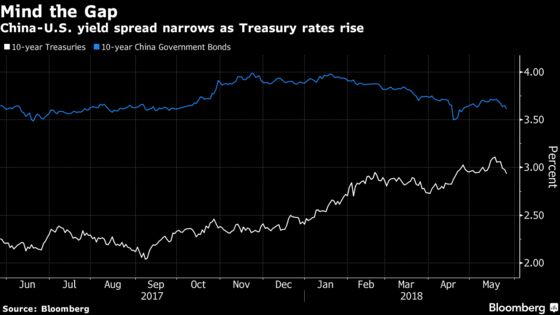 "The expectations on the yuan are relatively stable, even though the China-U.S. yield gap is narrowing," said Wang. "The PBOC might cut RRR more to replace maturities from the medium-term lending facility," as financing costs are still rising, he said.
The lack of pressure on the yuan is significant because a continued contraction in the yield spread not only risks eroding demand among foreign investors for China's fixed income, but could see local capital more interested in heading out. If that's not happening, officials have more room to focus on tweaking policy to drive money into the real economy.
Yi -- who took office in March as the first new central bank governor in 15 years, and lowered the RRR by a full percentage point soon after -- said last month that China is well prepared for normalization of interest rates around the world.
"We expect the PBOC to cut the ratio by 50 basis points in July and October respectively," said David Qu, an economist at Australia & New Zealand Banking Group Ltd. in Shanghai. "The China-U.S. yield gap may narrow further in the long term."