Decade-Low Costs for Dollar Loans Set to Rise for India Inc.
(Bloomberg) -- The good days for India Inc. in the offshore syndicated loans market may soon be over, as foreign banks pinched by their own rising borrowing costs balk at the lowest lending rates in a decade.
"India may be approaching a turning point for loan pricing to come up a bit to facilitate syndication," said Samuel Tan, co-head of loan syndication and distribution for United Overseas Bank in Singapore.
As the Federal Reserve gears up for more interest-rate hikes, a surging dollar is also fueling bets that developing nations may also raise rates faster than anticipated. That's all pressuring some global banks' cost of funding. As a consequence, there are signs that foreign lenders are growing more selective with Indian loans, even as they cheer signs that the nation is moving toward cleaning up about $210 billion of non-performing assets.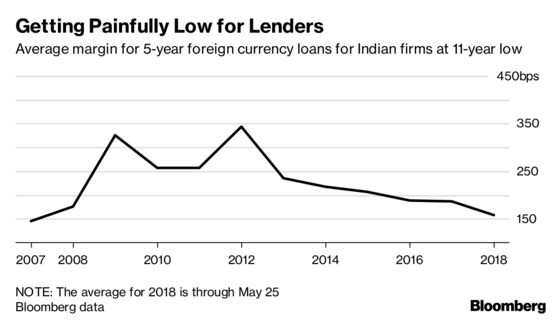 In another sign of weakening demand from global banks, more Indian companies have been forced to rely on a smaller group of lenders to underwrite borrowings or to use their relationships to strike so-called club deals.
Companies may get cheaper borrowing costs through the club arrangements. But doing so makes them reliant on a smaller group of banks, creating the risk that any shift in those lenders' willingness to extend funds could hamstring the firms.
In a sign of rising challenges for banks to court large groups of lenders to deals with narrowing interest margins, it took over two months for State Bank of India to launch a deal that pays 15 basis points less than an equivalent loan from June 2017
Indian Railway Finance Corp. hired lenders to arrange loan facilities, more than two months back, but is yet to start marketing to a wider group of banks in syndication.
IndusInd Bank's $500 million loan led by six mandated lead arranging banks, or MLABs, and signed in April, only drew three banks in syndication. The $249 million loan for Great Eastern Shipping Co. unit, Greatship India, attracted two participating lenders which took over half of the allocation. Birla Carbon, a holding company of conglomerate Aditya Birla Group, opted to only seek lenders at top-ticket levels, rather than seeking a larger group of banks.
Hindustan Petroleum Corp., which mandated a $300 million 3Y facility earlier this year, has decided against marketing the loan in general syndication, according to people familiar with the matter, who are not authorized to speak publicly and asked not to be identified.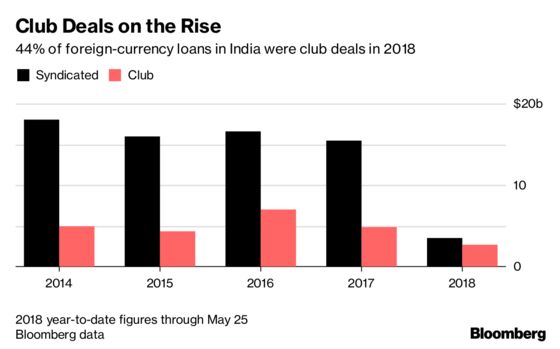 The ability for lead banks to sell down Indian loans is decreasing due to low interest margins, according to Sandeep Bhatt, Mumbai-based senior regional manager for India at Export Development Canada.
"In some cases, bankers are asking borrowers to bring their relationship banks as lenders to overcome this problem," Bhatt said. "Pricing for large corporates is not expected to go down below current levels for the next six months."