Currencies Rebound as Lira Bucks Trend in a Wild Ride: EM Review
(Bloomberg) -- Falling Treasury yields and a weaker dollar gave some relief to emerging-market currencies, which completed their second weekly gain this month. The Turkish lira bucked the trend, even after the central bank boosted borrowing costs at an emergency meeting.
The MSCI Emerging Markets Currency Index advanced 0.4 percent, while the gauge tracking developing-economy stocks fell 0.1 percent. The Bloomberg Barclays index of global EM local currency government bonds ended a six-week losing streak, rising 0.3 percent.
Highlights for the week ended May 25:
President Donald Trump pivoted from his abrupt cancellation of a planned summit with North Korean leader Kim Jong Un, saying it may still happen on the originally scheduled June 12 date
North Korea's First Vice Foreign Minister Kim Kye Gwan said Friday that his country wants to pursue peace and that it would give Washington time to reconsider talks
Federal Reserve officials signaled they are set to raise interest rates at their meeting in June, but sent no clear message on whether they'd increase one or two more times this year following that move
Trump on Wednesday backed away from a framework just three days after it was announced as members of Congress and trade hawks close to his administration criticized him for going too soft on China; the president earlier in the week retreated from imposing tariffs on billions of dollars worth of Chinese goods
Turkish lira was the worst performer, prompting the central bank to raise its late liquidity window rate by 300 basis points to 16.5 percent at an emergency meeting

President Recep Tayyip Erdogan didn't mention the lira or the rate increase in a campaign speech Thursday and while he kept his remarks on economics brief, he reiterated his commitment to an open economy

Malaysia's insolvent state investment company 1MDB is unable to repay debts that could amount to almost $7 billion over the next five years, the finance ministry said
Brazil's 12-month inflation unexpectedly slowed in mid-May, contrasting with the central bank's decision to end its easing cycle; the central bank said a more unfavorable global economic environment reduced chances of below-target inflation and made it appropriate to hold the key rate
Bank Indonesia said its board of governors will hold a meeting on May 30 to discuss the current monetary and economic conditions and future prospects; it may raise policy rate by 25 basis points to 4.75 percent, according to Bloomberg survey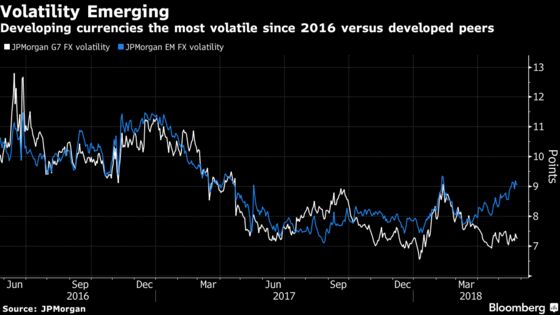 U.S. Commerce Secretary Wilbur Ross plans to visit Beijing in early June to work out the details of a broad commitment from China to increase its purchases of American goods

ZTE Corp. is estimating losses of at least 20 billion yuan ($3.1 billion) from a U.S. technology ban, people familiar with the matter said

Indonesia's rupiah rose as new central bank Governor Perry Warjiyo said he will use monetary policy as a tool to stem a selloff in currency and government bonds

The central bank said Wednesday it stepped in the currency and bond markets as the rupiah continued to weaken
Finance Minister Sri Mulyani Indrawati said the country's central bank has room to raise its policy rate further

India's rupee also strengthened; the country's divided opposition has seized on a new way to counter Prime Minister Narendra Modi's powerful Bharatiya Janata Party: bringing national and regional rivals together to take on the ruling party
The Thai baht led gains among emerging Asia peers as Thailand's gross domestic product grew at the fastest pace since 2013, expanding 4.8 percent in the first quarter from a year earlier

The central bank may boost 2018 GDP growth forecast from 4.1 percent after a better than expected 1Q performance, Senior Director Don Nakornthab said; the finance ministry also said it may lift 2018 growth forecast to 4.5 percent from 4.2 percent

The Malaysian ringgit extended its losing run to an eighth week; 14 cabinet ministers were sworn in including Finance Minister Lim Guan Eng, as Prime Minister Mahathir Mohamad moves to implement his economic agenda amid investor concern it will put pressure on the budget

The Malaysian Anti-Corruption Commission questioned former Prime Minister Najib Razak over 1MDB

The Korean won slipped for a second week as the nation's central bank stayed the course amid rising uncertainty, leaving its benchmark interest rate unchanged in a unanimous decision at 1.5 percent
The Philippine peso was Asia's worst performer; the country's central bank cut the ratio of funds that lenders must hold as reserves, in line with a strategy outlined by Governor Nestor Espenilla to reform financial markets
President Vladimir Putin's aim to turn Russia into one of the world's five biggest economies is "very ambitious" but achievable: central bank Governor Elvira Nabiullina

Russia will discuss with OPEC in June whether it's appropriate to gradually scale back oil-output cuts, Energy Minister Alexander Novak said

South Africa's central bank held the key interest rate at a two-year low at 6.5 percent

Inflation rate in April rose for the first time this year
President Cyril Ramaphosa said he is committed to the independence of the country's central bank even as the government considers nationalizing it
The rand posted its best weekly advance since February

The Turkish lira tumbled; discretionary policy making may come under pressure after next month's elections, increasing the threat to the country's credit profile, Fitch said
The forint extended its slide to a sixth week as the National Bank of Hungary kept rates unchanged for a 24th consecutive month
The Argentine peso fell for a fifth week, while staying stronger than 25 per dollar; talks with the IMF talks are moving forward and the fund is committed to reaching a rapid solution, a spokesman said

The central bank held policy rate unchanged at 40 percent as widely expected

The Mexican peso rose the first time in six weeks; the country told the U.S. it can be flexible on automotive wages and content in exchange for Trump's negotiators withdrawing some of their other toughest demands, according to two people familiar with the talks

Mexico's gross domestic product rose in line with the preliminary estimate in the first quarter as the service sector grew steadily

Brazil's real climbed, ending a four-week falling streak; the central bank reversed course on its guidance for more easing in a cautious move that reflects growing inflation threats both at home and abroad, minutes to the May policy meeting showed
The Colombian peso climbed after a five-week slump; the first-round presidential election is set for May 27

READ: Colombian Peso Is Vulnerable to Left-Wing Election Surprise
| | | |
| --- | --- | --- |
| Tuesday, May 29 | Brazil | May IGPM inflation |
| Wednesday, May 30 | Brazil | 1Q GDP |
| | Poland  | 1Q GDP, May consumer price index |
| Thursday, May 31 | China | May manufacturing, non-manufacturing PMI |
| | India | 1Q GDP |
| | South Africa, Turkey | April trade balance |
| | South Korea | April industrial production |
| | Thailand | April current-account balance |
| | Mexico | Central bank monetary policy minutes |
| | Chile | April unemployment, copper production |
| Friday, June 1 | China | May Caixin manufacturing PMI |
| | Thailand, Kazakhstan | May consumer price index |
| | South Korea | May consumer price index, trade data; 1Q GDP |
| | Czech Republic | 1Q GDP |
| | Chile | April retail sales |