Merkel Pledges $7 Billion to Ease Germany's Housing Squeeze
(Bloomberg) -- Germany is seeking to counter surging rents and real estate prices with a pledge to invest more than 6 billion euros ($7 billion) to build new homes.
The program targets the construction of 1.5 million apartments and houses over the next four years, Chancellor Angela Merkel's said in her weekly video address on Saturday. The plan involves 2 billion euros in federal funds for social housing projects as well as tax incentives to promote the development of affordable homes for mid-income earners. The government is also making money available to help families afford their own homes.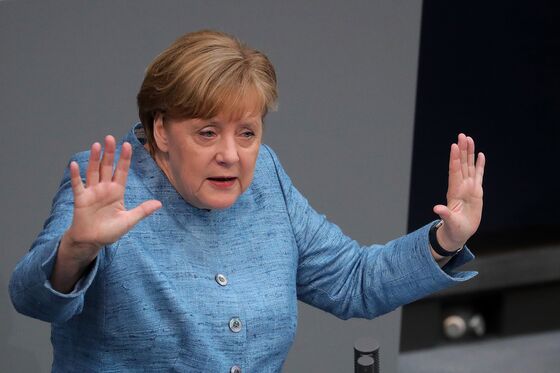 "For many, one of the burning topics of our time is finding affordable housing," Merkel said in the video. "The federal government is reacting to this with a housing offensive that we will implement step by step."
The surging cost of housing has threatened to tear at Germany's social fabric. In Berlin, rents have climbed by an average of almost 60 percent since 2009, according to data compiled by Bulwiengesa AG, as construction failed to keep pace with the thousands of people moving to the capital every year. In April, about 13,000 people marched from Potsdamer Platz to Kreuzberg in protest against rising rents, according to the DPA news agency.
New housing supply is "desperately needed," said Merkel. "This is truly a balanced offensive."
Housing Highlights

More than 6 billion euros for 1.5 million new homes
2 billion euros in federal funds for state's social housing projects
Families can receive 12,000 euros per child over 10 years to help with the purchase of a home
Making federal land available at low rates
Improving renters rights and seeking to control rent increases