Inside the Fed's May Meeting: The Annotated Minutes
(Bloomberg) -- In its May statement, the Federal Reserve emphasized the symmetric nature of its 2 percent inflation target in keeping rates unchanged. With the release of minutes from that meeting on Wednesday, we'll learn just how much monetary policymakers really see eye-to-eye as price pressures mount.
A second reference of the central bank's "symmetric" inflation target gave market participants the impression that annual price increases above 2 percent would not necessarily elicit a much more aggressive pace of tightening.
Meanwhile, growing momentum in the U.S. economy and renewed stability in American equities has left traders almost perfectly divided on whether Chairman Jerome Powell will deliver three or four rate hikes in total for 2018. A 25 basis point increase in the Fed's next meeting in June is already fully priced in.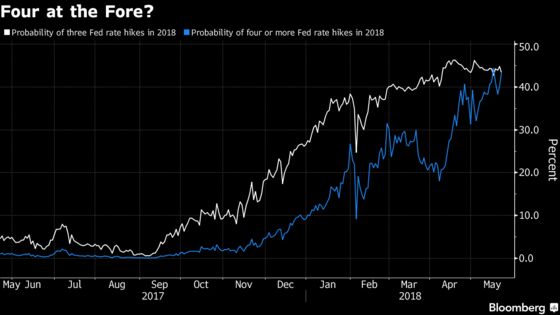 In recent weeks, monetary policymakers have offered their individual opinions on the signal emanating from the yield curve. A shrinking spread between short and longer-term U.S. government borrowing costs can be a worrying development, as an inversion has typically preceded economic downturns. The minutes provide a forum to see areas of common agreement among Fed officials regarding just how much weight should be placed on this market dynamic, and what they might do to prevent it.
Follow along as we annotate the minutes.