How Germany Is Defusing a Demographic Time Bomb
(Bloomberg) -- One of the latest signs of hope for Germany's aging population is a chubby-cheeked Berliner named Nina Rosa. Born just after Christmas, she's part of a surprising baby bump that's easing concerns about the economic impact of a looming demographic crunch.
Bolstered by an array of family-friendly policies, German fertility rates—among the world's lowest for decades—are at their highest levels since the 1970s, according to the latest World Bank data. Combined with an influx of immigrants from other European countries, as well as refugees from the Middle East, the increase in freshly baked Germans helps address the risk of waning competitiveness as baby boomers retire in the coming years.
"There's a positive climate for having children. It's a clear trend reversal," said Martin Bujard, research director at the Federal Institute for Population Research in Wiesbaden. Backed by several laws since 2004, including 2013 legislation that gives kids as young as one the right to daycare, "women see that they can have a baby and still continue their careers. Before that, many women felt they had to choose."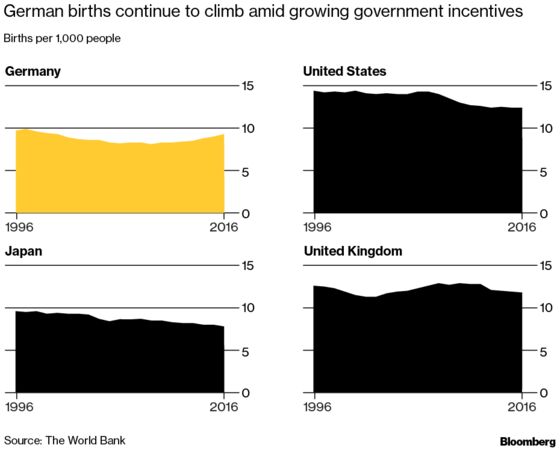 With Germany's population on course to peak near the end of the 2020s, "Kinderkriegen" (childbearing) has effectively become a national security issue for Europe's largest economy. The country spent 45 billion euros ($53 billion) for child and youth programs in 2016, with most of that going to daycare facilities. Adding in other benefits such as maternity pay and child support, the total spent on families rises to roughly 90 billion euros, according to Bujard. That compares with the country's 2016 defense budget of 35 billion euros.
Given the impact on labor supply and public spending, "demographics is probably one of the key challenges for Germany over the next 10 to 20 years," said Oliver Rakau, chief German economist at Oxford Economics in Frankfurt. The baby boom is positive, improving growth prospects and helping to offset rising health care and pension costs, but Germany "remains a fast-aging economy."
Despite the baby boom, there were nearly 119,000 more deaths than births in Germany in 2016. The population still rose by 346,000 people to 82.5 million, thanks to immigration.
The country's largesse definitely played a role for Sara Roumette. Nina Rosa's mother is an editor and writer from Paris who moved to Berlin in 2012, where she met her partner, an Italian carpenter. Elterngeld—parental-leave money, under which the state pays mothers or fathers as much as 1,800 euros a month for as long as 14 months after a child's birth—provided welcome security for this living example of European multiculturalism.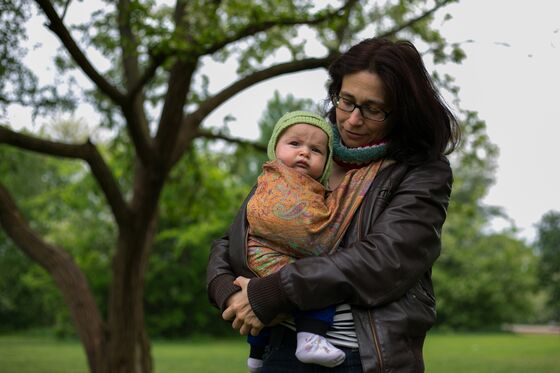 "It gave us the chance to ease into parenthood without financial pressure," said the 41-year-old Roumette, as Nina Rosa napped in the next room. "They don't have anything similar in France, where the emphasis is on getting back to work."
Some of Germany's benefits are softer than brute financial rewards. During her first weeks, Nina Rosa struggled to nurse, but a midwife gave Roumette tips and encouragement during daily visits until she could breastfeed naturally.
"The first weeks were awful, but once she started to drink it was beautiful," said Roumette. "I'm very happy to be here."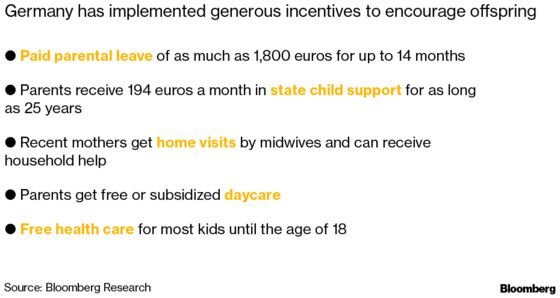 Germany's policy prescriptions have helped the country become a rare success story. Many developed economies have seen fertility rates  contract in recent years, with Italy falling below Germany, while U.S. birth rates have dropped to the lowest level since the 1980s. China is facing calls for new programs to encourage bigger families as it considers abandoning its decades-old birth-control policies.
The success of Germany's baby policies has caught authorities by surprise. Despite the right to daycare, there are insufficient spots in sought-after locations such as trendy Berlin neighborhoods. The capital is seeking to ease the strain on delivery rooms and post-natal care by stepping up training and improving working conditions. It's also developing a "call-a-midwife" app to match mothers with baby experts.
What Our Economists Say…
Unless fertility rises further, population will act as a big drag on growth and a strain on the public finances—Germans may need to get physical if they are to avoid getting fiscal.
—Jamie Murray, Bloomberg Economics
St. Joseph's Hospital in Berlin—Germany's busiest baby clinic, where births have nearly tripled over the past decade—set up an online registration platform earlier this year to help handle the flood of requests for appointments. It had earlier increased its information evenings for expecting parents to three a month, and they're still packed with over 150 people.
"It's a big challenge that requires a lot of different responses to ensure there's quality care," said Michael Abou-Dakn, head of the St. Joseph's maternity ward, who is working with the local government on stop-gap and longer term measures to adjust to the higher birth rates. "Berlin understands how important this is."