U.K. Lawmakers Urge Curbs on Russian State Debt, Share Sales
(Bloomberg) -- The U.K. should seek European Union action to bar Russian sovereign debt from clearing houses and work with allies to stop companies whose owners have links to President Vladimir Putin from listing on global stock markets, according to a committee of lawmakers in London.
"The Government should work with the EU, and with the U.S., to prohibit the purchase of bonds in which a sanctioned entity has acted as book runner," the U.K. Foreign Affairs Select Committee concluded in a non-binding report published Monday. "It should also seek EU agreement to bar the European clearing houses from making available Russian sovereign debt."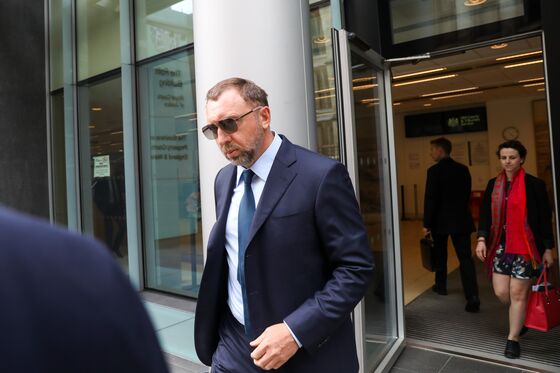 The committee said the government should "investigate the gaps in the sanctions regime" that allowed billionaire Oleg Deripaska's En+ Group Plc to raise around $1.5 billion in a London listing that involved VTB Capital and Gazprombank JSC, banks that have been under sectoral sanctions since 2014. The U.K. should work with Group of Seven partners whose markets dominate the financial system and other countries "to close those gaps as soon as possible," according to the report.
Deripaska wasn't under sanctions in November when his En+, the power and commodities company which owns 48 percent in United Co. Rusal, carried out Russia's biggest initial public offering in four years, selling shares in London and Moscow. The U.S. sanctioned him as well as En+ and his other companies on April 6, causing shares in Rusal to plunge as Deripaska's businesses were excluded from western financial systems. Dozens of other Russian tycoons and companies were also slapped with penalties in the most punitive U.S. sanctions to date.
Deripaska stepped down as an En+ director last week as he seeks to persuade the U.S. to lift sanctions. Investors in his companies should withdraw from them fully by June 6 or they may face sanctions as well.
The report's recommendations show the "unprecedented Russophobic mania" in the U.K., Kremlin spokesman Dmitry Peskov told reporters on a conference call. It's an attempt to block the rise of Russian companies through "unfair and unfriendly competition," while investors from other countries will take note because they may also face "a situation where their investments are called 'dirty money'," he said.
The report, "Moscow's Gold: Russia Corruption in the U.K.," was published as British ministers have threatened a crackdown on Russian interests in the country following the nerve-agent poisoning of former spy Sergei Skripal and his daughter Yulia in March.
U.K. Prime Minister Theresa May has blamed Russia for the first offensive use of a chemical weapon since World War II, something the Kremlin rejects. The U.K. rallied allies to conduct coordinated expulsions of more than 150 Russian diplomats in response, prompting tit-for-tat retaliation from Moscow.
Despite the U.K.'s "strong rhetoric, President Putin's allies have been able to exploit gaps in the sanctions and anti-money laundering regimes that allow them to hide and launder assets in London," the committee concluded. Russia's ability to issue new sovereign debt on global markets with help from sanctioned banks also "undermines the global sanctions regime and supports the aggressive behaviour of the Russian state," it said.
"Any action taken to limit or prohibit the issuance of Russian debt on global markets, however, must be taken jointly by the EU, U.S. and other international partners in order for it to be effective," the committee concluded.
U.S. Treasury Secretary Steven Mnuchin said in April that he stands by a January report from his agency that advised against sanctioning Russian government debt.
The ruble shrugged off the report, trading little changed at 62.2819 per dollar as of 3:04 p.m. in Moscow. Government ruble bonds due in 2028 were flat, with the yield unchanged at 7.37 percent. Yields on government Eurobonds maturing the same year were up two basis points at 5.05 percent. Stocks traded higher for a second day.
There's a "very low probability" of Russia facing Iranian-style sanctions from western countries and it's not in Moody's Investors Service's base-case scenario, Yves Lemay, managing director for sovereign risk at the rating company, said in an interview in London last week.
It should be a "major U.K. foreign policy priority" to combat the use of London as a base for the corrupt assets of Kremlin-connected individuals, the committee said. "Turning a blind eye to London's role in hiding the proceeds of Kremlin-connected corruption risks signaling that the U.K. is not serious about confronting the full spectrum of President Putin's offensive measures," it said.