Hong Kong Spends $2.4 Billion in a Week to Defend Currency
(Bloomberg) -- Currency intervention is becoming a daily necessity for Hong Kong as the local dollar continues to trade at the weak end of its trading band.
The Hong Kong Monetary Authority spent HK$5.99 billion ($763 million) buying local dollars as the weekend began, bringing its purchases over the past week to HK$19 billion. Lower interest rates relative to the greenback have made shorting the currency a lucrative trade.
The intervention is a form of tightening in a city which imports U.S. monetary policy thanks to its peg to the greenback. The HKMA's aggregate balance of interbank liquidity will fall to HK$109.5 billion on Wednesday, down from HK$179.8 billion before the de facto central bank began defending the currency last month.
"The carry trade of shorting the Hong Kong dollar will remain frequent, prompting the HKMA to keep intervening," said Tommy Ong, managing director for treasury and markets at DBS Hong Kong Ltd. "Interbank liquidity is still flush with aggregate balance nearing HK$100 billion. The city's interest rates may catch up with U.S. borrowing costs only after the aggregate balance falls to HK$20 billion to HK$50 billion."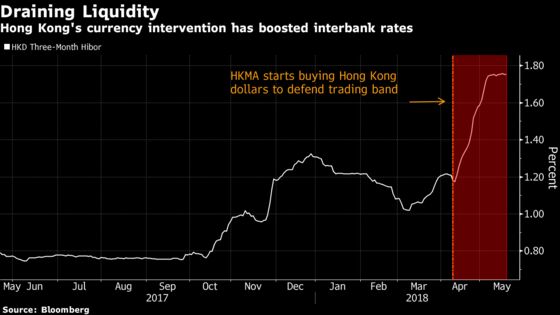 The city's three-month interbank rate has jumped nearly 60 basis points to 1.75 percent since the HKMA began intervening. That's still 58 basis points below the U.S. equivalent, suggesting pressure on the Hong Kong dollar will persist. The currency was little changed at HK$7.8496 per greenback as of 5:26 p.m. local time, near the HK$7.85 weak end of the band.
"The aggregate balance will fall at a gradual and orderly pace with HKMA's modest intervention," said Ken Cheung, a currency strategist at Mizuho Bank Ltd. in Hong Kong.