Stocks Retreat as North Korea Summit Looks Iffy: Markets Wrap
(Bloomberg) -- U.S. stocks erased early gains and turned lower Tuesday as optimism over improving trade relations with China gave way to renewed concerns about geopolitical tensions with North Korea. The dollar fell, Treasuries were steady and crude slid to a loss after surging to the highest since November 2014.
The S&P 500 Index tumbled with the Dow Jones Industrial Average and Nasdaq benchmarks in late trading after President Donald Trump cast doubt on a possible summit with North Korea during his Oval Office meeting with South Korea President Moon Jae-in.
"What we saw when the meeting was originally scheduled was that the market reacted favorably to that, so I think that any cancellation could cause a little bit of a pullback," said Adam Phillips, director of portfolio strategy at EP Wealth Advisors. "I would expect that that would be short lived, because at the end of the day we're back where we started and it means uncertainty is back on the table, but I think the factors underpinning the economy are still quite strong."
Earlier, stocks rallied following China's announcement that it will cut the import duty on passenger cars to 15 percent, signaling a further easing of trade tensions with the U.S. The Stoxx Europe 600 Index climbed, and emerging-market shares advanced, ending a three-day losing streak.
''At the end of the day, the more trade the better," said Lee Caleshu, chief investment officer of Halite Parters. "The more openness, the less tariffs, the less government regulations coming in to affect industry, the better."
The euro fell slightly as investors weighed the chances that Italy's president will seek to curtail a potential populist government, while the country's bonds rebounded from a two-day slide. The Turkish lira sank to yet another record low. Sterling strengthened amid speculation there could be another U.K. election and after upbeat comments from a Bank of England policy maker.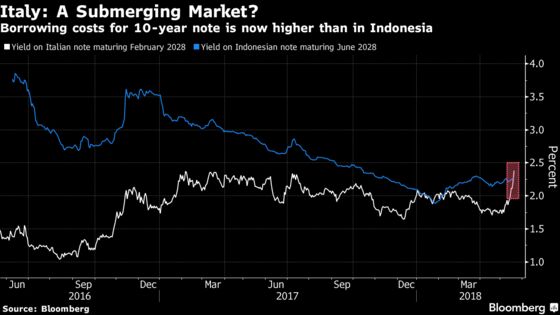 Beyond politics, central banks are also in focus this week. The Federal Reserve will release minutes of its latest policy meeting on Wednesday, while the ECB follows suit on Thursday. A raft of U.S. debt sales adds to the busy agenda.
Elsewhere, the Chilean peso and South African rand led gains in emerging currencies. WTI crude climbed to a three-year high.
Terminal users can read more in Bloomberg's Markets Live blog.
These are some key events to watch this week:
The Federal Reserve releases minutes of the central bank's May 1-2 meeting on Wednesday; U.S. new home sale also released as are euro-area and Japan PMIs.
Thursday sees the Bank of England Markets Forum at Bloomberg London. Speakers include BOE Governor Mark Carney and New York Fed President William Dudley.
At the St. Petersburg Forum Friday, Russian President Vladimir Putin and French President Emmanuel Macron, IMF Managing Director Christine Lagarde, and Japan Prime Minister Shinzo Abe participate on a panel moderated by Bloomberg News Editor-in-Chief John Micklethwait.
Also Friday, European Union finance ministers discuss the latest on Brexit talks, in Brussels.
These are the main moves in markets:
The S&P 500 fell 0.3 percent to 2,724.46 while the Dow dropped 179 points, or 0.7 percent, to 24,834.41.
The Stoxx Europe 600 Index rose 0.3 percent.
The MSCI Emerging Market Index increased 0.7 percent, the largest gain in more than a week.
The MSCI Asia Pacific Index advanced 0.1 percent.
The Bloomberg Dollar Spot Index decreased 0.1 percent.
The euro declined 0.1 percent to $1.1779.
The British pound added less than 0.1 percent to 1.3433.
The Japanese yen rose 0.2 percent to 110.88 per dollar.
The Turkish lira sank 2.1 percent to 4.6728 per dollar, the weakest on record.
The yield on 10-year Treasuries was little changed at 3.0615 percent.
Germany's 10-year yield increased four basis points to 0.56 percent.
Britain's 10-year yield gained five basis points to 1.523 percent.
Italy's 10-year yield declined six basis points to 2.328 percent, the largest drop in more than a week.
West Texas Intermediate crude slid 0.2 percent to $72.13 a barrel.
Gold fell 0.1 percent to $1,291.87 an ounce.