Indonesia to Step Up Intervention as Currency, Bonds Slide
(Bloomberg) -- Indonesia's central bank pledged to continue its intervention in the currency and bonds market to ease volatility, and said it will boost forex liquidity as the rupiah slumped to a fresh 31-month low.
Bank Indonesia will hold three forex swap auctions to ensure sufficient liquidity in the interbank market, Nanang Hendarsah, executive director for monetary management, said in a text message on Monday. The bank, which usually holds two auctions a week, has been holding additional sales to ensure the market is well supplied, he said.
The rupiah slumped to its weakest level since October 2015 on Monday as rising U.S. Treasury yields and a firmer dollar trigger a selloff across emerging markets. Bank Indonesia's pledge last week to add to its first interest rate hike since 2014 to restore market stability hasn't stopped foreign investors from dumping the nation's currency, bonds and stocks.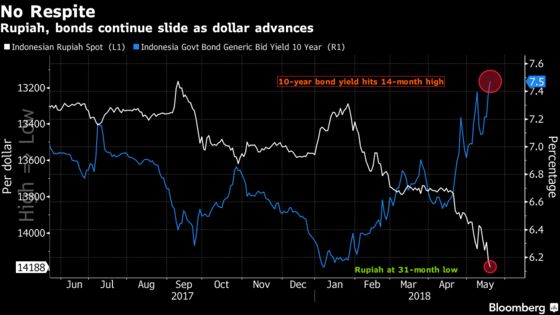 Global funds have dumped a net $2.3 billion of Indonesian sovereign bonds since the end of March, set for the biggest quarterly withdrawal based on data compiled from 2009, and pulled $1.26 billion from the shares markets. The benchmark bond yield surged to its highest in 14 months on Monday, while the benchmark stock index extended its decline to more than 9 percent this year.
The rupiah's weakness is due to external factors and a stronger dollar index, Hendarsah said. Bank Indonesia is also coordinating with the government to address the slump in the currency, Governor Agus Martowardojo said last week.
The central bank swapped $2.69 billion of dollars for rupiah this month as it sought to improve the liquidity after the overnight interbank rate surged to an 10-month high of 4.77 percent on April 27, central bank data show.
"The move to increase forex swaps is a positive development, as it improves rupiah liquidity mainly for foreign banks operating in Indonesia and raises dollar liquidity for the central bank," said Rahul Bajoria, a senior economist at Barclays Bank Plc in Singapore. "The impact of the move will be felt in the coming weeks, as the new arrangement is operationalised."
The rupiah has declined 4.4 percent against the dollar this year even as the central bank spent more than $7 billion of reserves since the start of February mostly to halt the slump.