Stocks Rise, Investors Cheer Easing Trade Tensions: Markets Wrap
(Bloomberg) -- U.S. stocks surged Monday as the Trump Administration sought to calm a potential trade dispute with China. The dollar surrendered earlier gains and turned lower, Treasuries steadied, and traditional havens such as the yen and gold tumbled.
Major equity gauges were higher from start to finish, with the Dow Jones Industrial Average adding around 300 points. The greenback rose in early trading but then retreated and turned lower, as investors assessed Treasury Secretary Steven Mnuchin's comments on Sunday that the U.S. was "putting the trade war on hold" amid progress in talks with China. West Texas crude climbed to the highest since November 2014.
"There is much to gain from our country working with China and much to lose if we don't, so any evidence of the administration working toward an amicable solution should be viewed positively," Chris Zaccarelli, chief investment officer of Independent Advisor Alliance, wrote in a note Monday.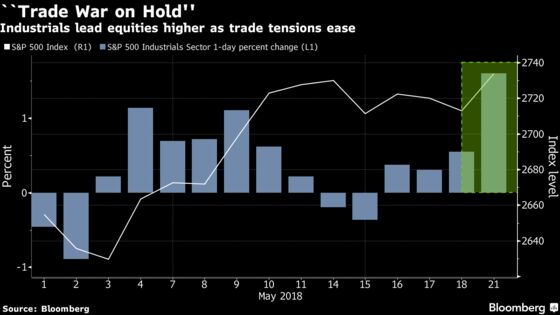 The euro rose following five days of declines after Italy's two populist parties closed in on a pick for prime minister, while Italian bonds extended their retreat. Media companies and retailers led advances in the Stoxx Europe 600 Index, though a number of countries are out for a holiday.
The easing protectionist tensions will offer some respite to traders as they grapple with the impact of rising U.S. interest rates and a stronger dollar.
"Everybody wants a deal, it's just the unknown, or it's really tough sanctions everybody is most concerned about," said Tim Clift, chief investment strategist at Envestnet PMC. "But if it looks like it's just going to be much more agreeable for both sides, and they're pushing it out to hash it out instead of making too strict of tariffs, that's certainly much better for the market."
In addition, the week ahead is loaded with risk events, including releases of the latest meeting minutes from both the Federal Reserve and European Central Bank, a slew of debt sales from the U.S. and preliminary purchasing manager indexes from the euro zone. Meanwhile, geopolitical stress lingers, with South Korea President Moon Jae-in visiting Washington to discuss North Korea and Brexit negotiations ongoing.
"In our view the fundamentals remain attractive for further upside in equities stateside and globally in the months ahead so long as progress persists in trade talks with China and among the members of NAFTA, and so long as the Fed remains sensitive to the economy in 9its process of interest rate normalization," John Stoltzfus, the chief investment strategist at Oppenheimer & Co., wrote in a note to clients Monday.
Elsewhere, emerging-market currencies continued to come under pressure, with Turkey's lira falling around 2 percent.
Terminal users can read more in Bloomberg's Markets Live blog.
These are some key events to watch this week:
Philadelphia Fed President Patrick Harker, Atlanta Fed President Raphael Bostic and Minneapolis Fed President Neel Kashkari all speak at various events early in the week
Brexit negotiations resume in Brussels Tuesday, and South Korea's president visits Washington to discuss North Korea
Also Tuesday, Facebook Chairman and CEO Mark Zuckerberg is to be questioned by the European Parliament on his company's use of personal data
The Federal Reserve releases minutes of the central bank's May 1-2 meeting on Wednesday; U.S. new home sale also released as are euro-area and Japan PMIs
Thursday sees the Bank of England Markets Forum at Bloomberg London. Speakers include BOE Governor Mark Carney and New York Fed President William Dudley
At the St. Petersburg Forum Friday, Presidents Putin and Emmanuel Macron, IMF Managing Director Christine Lagarde, and Japan Prime Minister Shinzo Abe participate on a panel moderated by Bloomberg News editor-in-chief John Micklethwait
Also Friday, European Union finance ministers discuss the latest on Brexit talks, in Brussels.
These are the main moves in markets:
The S&P 500 Index rose 0.7 percent to 2,733.01. The Dow added 1.2 percent, or 298 points, to 25,013.29.
The Stoxx Europe 600 Index climbed 0.3 percent to the highest since January.
The MSCI All-Country World Index gained 0.5 percent.
The U.K.'s FTSE 100 Index increased 1 percent to the highest on record.
The Bloomberg Dollar Spot Index slid 0.1 percent.
The euro rose 0.1 percent to $1.1787 following five straight declines.
The British pound decreased 0.3 percent to $1.3426, the weakest in almost 21 weeks.
The Japanese yen fell 0.2 percent to 111.02 per dollar, the lowest since January.
The yield on 10-year Treasuries was little changed at 3.0578 percent.
Britain's 10-year yield declined two basis point to 1.476 percent, the lowest in a week.
Germany's 10-year yield fell six basis points to 0.523 percent, the lowest in more than a month.
West Texas Intermediate crude gained 1.6 percent to $72.42 a barrel.
Gold fell 0.1 percent to $1,292.43 an ounce.
Copper rose 1.1 percent to 3.09 per pound, the highest in more than a week.