Carney Urged to Go `Mystical' on BOE Outlook After Criticism
(Bloomberg) -- Mark Carney may be wondering at times if less is more when he speaks to financial markets.
After a bruising month that's seen his own signals on interest rates questioned and one of his deputies forced to apologize for calling the economy menopausal, communication is once again a hot topic for the Bank of England governor.
Carney, who arrived at the BOE in 2013 with forward guidance as his signature policy, will come under more scrutiny this week when he faces a grilling from U.K. lawmakers. He'll also give speeches in London and Stockholm.
"Some people would say the safest thing for the Bank of England to do right now is to go back to being mystical," said Clea Bourne, a senior lecturer and financial communications specialist at Goldsmiths, University of London.
Communication dominated Carney's press conference following the BOE's May 10 policy announcement, and will doubtless figure in Tuesday's session in Parliament. Carney and his colleagues will be questioned on the decision, which saw officials hold off on a rate hike that had been seen as a certainty just weeks earlier. Brexit and its impact on the economy will also probably feature at the hearing.
Carney has received criticism after a number of signposted BOE interest-rate shifts never materialized. It was a change from the approach of his predecessors, who refrained from trying to manage expectations in such an explicit fashion.
As the central bank looks ahead, the big question is whether the economy bounces back from its near-stagnation at the start of the year.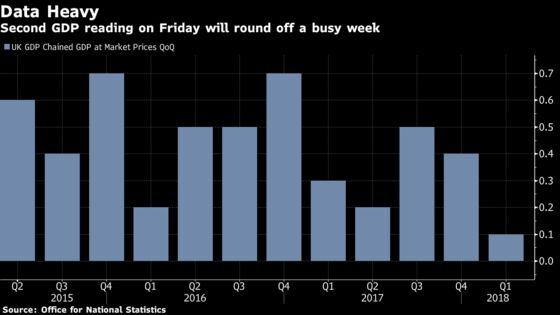 There will be plenty of new information to digest this week, with figures on public finances, inflation and retail sales due over the next four days. The week concludes with a second reading of first quarter gross domestic product, the data that effectively wiped out any chance of a rate increase this month.
Just prior to the GDP data late last month, the governor was forced to step in to recalibrate expectations about the May decision. Even with signs of economic weakness, markets had continued to almost fully price in a rate hike for that month.
That's the reverse of what happened before November's hike, when officials had to drop heavy hints that a move was coming to convince investors and avoid creating a policy shock.
What Our Economists Say
"For us, the apparent about-turn in the run up to the May decision was justified but not everyone shares that view. We suspect the MPC will respond by letting the data do its talking between now and August. There is enough detail in the Inflation Report to judge how any surprises could alter the committee's thinking."

-- Dan Hanson, Bloomberg Economics
When challenged at the press conference this month, Carney focused his answers on households and businesses, saying they had correctly understood the bank's broad message about the medium-term outlook on rates.
With an August hike now seen as a coin toss by investors, analysts say that Carney may be better off staying vague in terms of future rate moves.
"The BOE should say very little on the U.K. rate curve and financial markets -- and just provide some color on incoming data and whether it's in line or not with their broad outlook," said Viraj Patel, a currency strategist at ING Groep NV. "It'll be pretty clear in the data and Brexit as to what constitutes an August rate hike -- some uptick in underlying U.K. inflationary pressures, bounce back in U.K. activity and no meltdown in Brexit talks."
The statistics office reported last month that economy grew just 0.1 percent in the first quarter, partly as a result of bad weather. The BOE expects that to be revised higher and for the economy to expand by a much more solid 0.4 percent this quarter, an outlook shared by economists in the latest Bloomberg survey. How it all pans out will play a large part in the odds on an August tightening.
"We now know that the bank will be focusing on economic data," said Jane Foley, head of currency strategy at Rabobank. "This suggests that less guidance would be more appropriate."