China Casts Doubt on Report of $200 Billion Trade Deficit Offer
(Bloomberg) -- China cast doubt on reports that it had offered to reduce its annual trade surplus with the U.S. by $200 billion through increased imports of American products.
The offer was made during talks in Washington this week as Vice Premier Liu He visited to try to resolve a trade dispute, according to a Trump administration official who spoke on condition of anonymity. On Friday, two posts on Chinese state social media disputed the report, and a foreign ministry official said no such offer had been made, to his knowledge.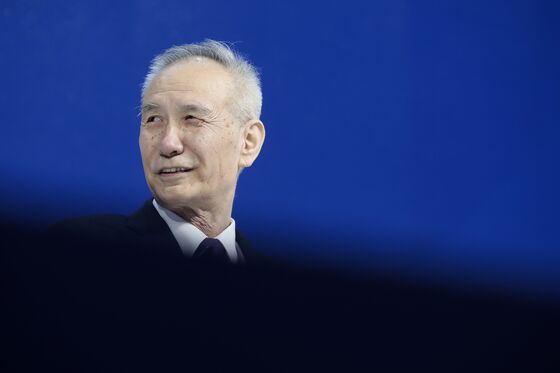 In a sign that the Chinese government is seeking a conciliatory stance, on Friday it announced that it would end its anti-dumping and anti-subsidy investigation into imports of U.S. sorghum, citing "public interest." That move comes days after the restarting of a review of Qualcomm Inc's application to acquire NXP Semiconductors NV.
"If Trump can cut a deal with China for a $200 billion reduction in the bilateral trade deficit, then he'll have won the trade deal of the century," said Rajiv Biswas, chief Asia-Pacific economist at IHS Markit in Singapore. "The devil will be in the details, with key factors being the timeframe over which China is offering to achieve this reduction."
A $200 billion reduction in the U.S. trade gap with China by 2020 was on a list of demands the Trump administration made earlier this month as Treasury Secretary Steven Mnuchin led a delegation to Beijing. That mission left with little common ground with China and reports emerging of infighting among the U.S. officials. The U.S. merchandise trade deficit with China hit a record $375 billion last year.
Read More on the Trade Talks:

Who wins if China shrinks the trade deficit by $200 billion?
David Fickling on the feasibility of cutting the deficit: Gadfly

CHINA INSIGHT: $200 billion cut to trade surplus? 1% hit to GDP
The Chinese social media posts, made on accounts operated by the Xinhua News Agency and the People's Daily, sought to reassure readers that no "unilateral concessions" would be made, and that China will "never negotiate" under conditions set by the U.S.
In Beijing, foreign ministry spokesman Lu Kang was pressed by reporters on the accuracy of the claim.
"The question is about some US officials who said China will cut the deficit," Lu said. "This rumor is not true. This, I can confirm. I do not know about the offers made by either party. As we know the consultations are still underway. I am not getting ahead of that. The consultations themselves are constructive."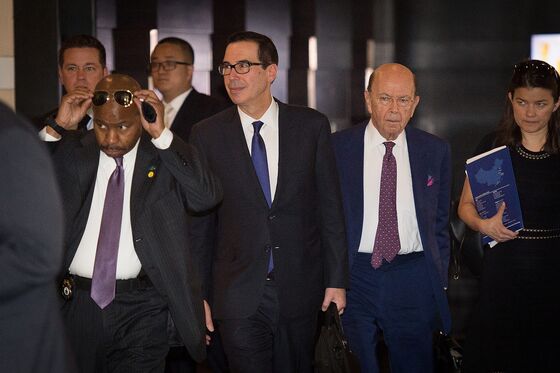 The U.S. had earlier made additional demands, including a halt to subsidies and other government support for the Made in China 2025 plan that targets strategic industries from robotics to new-energy vehicles. China had made its own demands, including giving equal treatment to its investment, and warned U.S. companies may be excluded from measures to open its economy.
The Trump administration has threatened to impose tariffs on as much as $150 billion of Chinese imports to the U.S. as tensions over trade have escalated. Trump expressed doubt before his meeting with Liu that China and the U.S. would come to an agreement to avoid a damaging trade war.
"Will that be successful? I tend to doubt it," Trump said during a press briefing on Thursday with NATO Secretary-General Jens Stoltenberg. "The reason I doubt it is because China's become very spoiled."
Shane Oliver, head of investment strategy at AMP Capital Investors Ltd. in Sydney, said the reports of the Chinese proposal are "a positive sign that a full-on trade war may be averted."
"By making a significant offer to the U.S. it indicates that China is taking the negotiations very seriously," Oliver said. "Much will depend on the details and time period and later in terms of the implementation."
The U.S. and China were expected to exchange new trade proposals during the Washington talks, Trump economic adviser Larry Kudlow said earlier Thursday. Mnuchin is leading the talks with Liu, along with Commerce Secretary Wilbur Ross and U.S. Trade Representative Robert Lighthizer, according to the White House.
Victor Shih, a professor at the University of California in San Diego who studies China's politics and finance, said he finds an agreement to cut the U.S. deficit by $200 billion "difficult to contemplate."
"Even with a drastic reallocation of Chinese imports of energy, raw materials and airplanes in favor of the U.S., the bilateral trade deficit may reduce by $100 billion," he said. "A $200 billion reduction would mean a drastic reduction in Chinese exports to the U.S. and a dramatic restructuring of the supply chain."