Turkish Lira Reverses Losses as Central Bank Vows to Take Steps
(Bloomberg) -- The Turkish lira reversed a drop to a record low after the central bank said it was monitoring markets and would take necessary steps, a sign policy makers are getting closer to action to stem a rout.
The currency rallied after it emerged that the central bank's Governor Murat Cetinkaya will meet President Recep Tayyip Erdogan, but then pared gains as a person familiar with the situation said the meeting was not related to the lira's fall. Erdogan's plans to take more responsibility for monetary policy after elections next month have spooked investors given his distaste for high borrowing costs.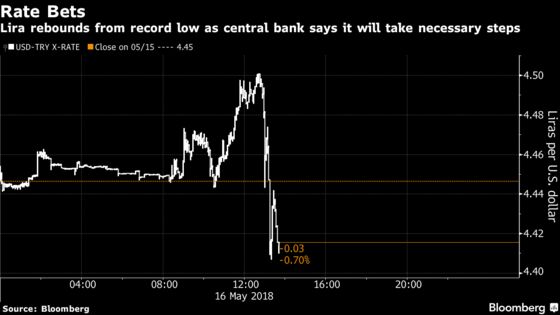 The central bank "is closely monitoring the unhealthy price formations in the markets. Necessary steps will be taken, also considering the impact of these developments on the inflation outlook," the Ankara-based monetary authority said in a statement on its website. The meeting with Erdogan is about the bank's efforts to boost trade with Iran in local currencies, said a person familiar with the matter who asked not to be identified.
The lira has been one of the currencies hardest hit by an emerging-market selloff this year amid concern the nation's interest rates are too low given a current-account deficit and double-digit inflation. Some investors say a sharp increase of 200 basis points is needed to restore market confidence, potentially at an emergency meeting.
"Now we just have to see whether 'necessary' is the same to the central bank as it is to the market," said Henrik Gullberg, a strategist at Nomura International Plc. "The market needs a circuit breaker, that circuit breaker can only be a prohibitively aggressive rate hike."
The currency gained 0.4 percent to 4.4271 per dollar, after earlier slumping as much as 1.2 percent to a record 4.5010. The yield on 10-year local currency notes was little changed at 14.71 percent, after earlier surging to a record 14.94 percent. The Borsa Istanbul 100 Index gained 0.5 percent, reversing a slide of as much as 0.9 percent.
"The central bank will have to follow its statement with concrete measures very soon by announcing an emergency rate meeting, or selling pressure on the lira may resume, perhaps even later today," said Piotr Matys, a strategist at Rabobank in London.
If the central bank manages to persuade Erdogan that interest-rate rises are needed to defend the currency and a hike is bold and aggressive, the lira would become a "screaming buy" given a background where most investors are short, said Nigel Rendell, a senior analyst for EMEA at Medley Global Advisors.
Market speculation on a rate hike was spurred last week by an unscheduled gathering between Erdogan and his top economic officials including Cetinkaya, yet a statement following the meeting failed to stop the pressure on the nation's assets.
"Just a hint of an interest-rate hike strengthened the lira by 2 percent against the dollar," said Per Hammarlund, chief emerging-market strategist at SEB AB. "The statement by the central bank today is a sign that lira weakness has gone too far."