HKMA Intervenes to Defend Peg Again as Hong Kong Dollar Weakens
(Bloomberg) -- Hong Kong stepped in to defend its currency peg for the first time in almost a month.
The Hong Kong Monetary Authority mopped up HK$1.57 billion ($200 million) of local dollars overnight after the currency fell to the weak end of its trading band. That adds to the $6.5 billion the de-facto central spent on intervention in April.
The purchases may further drive up interbank rates, after the three-month borrowing cost reached its highest level since 2008. Still, with local costs lagging behind those in the U.S., shorting the currency remains an attractive trade -- thereby inviting more intervention. The city, which imports U.S. monetary policy, is facing the prospect of significantly higher rates for the first time since the financial crisis.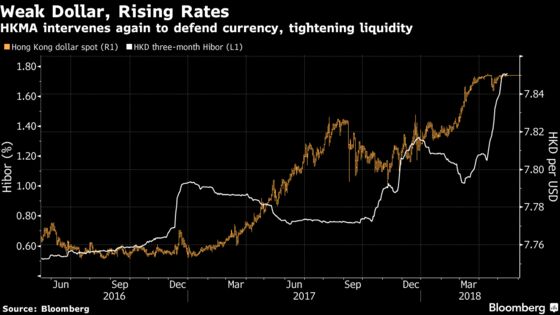 In addition to Federal Reserve hikes and a weak Hong Kong dollar, two mega-initial public offerings from Xiaomi Corp. and China Tower Corp. could pressure liquidity in coming months. When Ping An Good Doctor started taking orders from retail investors for its shares last month, a short-term interbank rate jumped by the most in nearly a decade.
The Hong Kong dollar was little changed at HK$7.8500 per greenback as of 5:13 p.m. local time.
To contact Bloomberg News staff for this story: Tian Chen in Beijing at tchen259@bloomberg.net
With assistance from Editorial Board