Broad Gauge of U.S. Factory Productivity Had Record Drop in 2016
(Bloomberg) -- U.S. manufacturing productivity is even more down in the dumps than before, a sobering reminder that recent gains in factory employment and business investment aren't all good news.
Manufacturing-sector multifactor productivity -- a broader measure than quarterly figures on efficiency -- plunged 3.2 percent in 2016, the worst annual decline in data back to 1987, according to a Labor Department report Wednesday. That reflected decreases in 14 of 18 industries, led by chemicals, food and transportation equipment.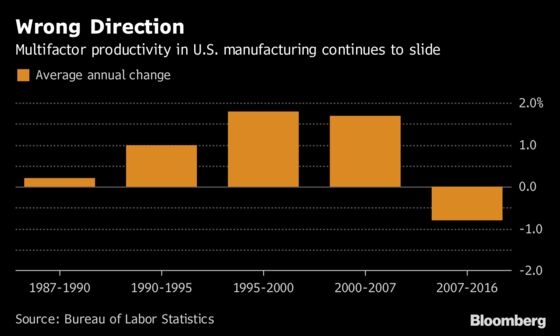 Multifactor productivity is calculated by dividing an index of real output by an index combining labor, capital services and intermediate inputs. It includes intangibles such as information on shifts in the size and quality of the workforce. To that extent, it's a more comprehensive concept than the commonly known gauge of labor productivity, or output per hour worked.
The pullback in 2016 came as factory output rose 0.4 percent, outpaced by a 3.6 percent increase in combined inputs. That means manufacturing production was barely expanding even as the sector was making use of more labor, machines, technological improvements and other inputs.
While the latest results are bleak, the trend is hardly new: Multifactor productivity in manufacturing also posted a 1.5 percent drop in 2015, and has fallen at an annual average pace of 0.8 percent from 2007 to 2016. In contrast, labor productivity at factories expanded at a 0.6 percent rate during the same period.