Global Funds Are Now the Dominant Force in China's Debt Market
(Bloomberg) -- Overseas investors have emerged as the dominant force in Chinese government debt this year.
Foreign funds bought a net 174 billion yuan ($27 billion) of the country's sovereign bonds in the first four months, according to data from China Central Depository & Clearing Co. released this month. That compares with 47.8 billion yuan purchased by local commercial banks, which held about two thirds of outstanding government notes at the end of last year.
There were plenty of reasons for foreign investors to like Chinese debt in the first four months of the year. Prices were rallying at the fastest pace in the world even as yields remained attractive, while a strengthening yuan and the prospect of inclusion in global gauges added extra allure.
"Foreigners' enthusiasm is based on two factors -- the yuan's appreciation boosted the appetite for yuan assets and the very attractive government debt yields," said Shan Kun, Shanghai-based head of local markets strategy at BNP Paribas SA.
The figures also show that as foreigners pile into Chinese debt, they're favoring the safest securities. The percentage of government bond holdings in their China portfolios rose to a record 68 percent at the end of last month, according to Bloomberg calculations based on data from CCDC.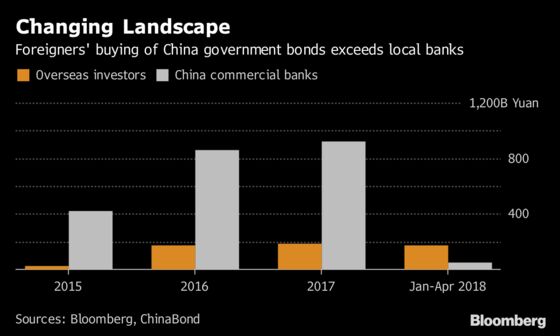 Overseas appetite for Chinese debt may be tested by a sharp reversal, with the 10-year yield rising 22 basis points since April 18, while a rebound in the greenback has knocked the yuan lower. Still, there's plenty of room for foreign investors to boost holdings: they held just 1.8 percent of the nation's 75.9 trillion yuan debt market at the end of March, separate figures from the People's Bank of China showed.