China's Liu He Returns to Trump's Turf to Resume Trade Talks
(Bloomberg) -- Liu He's arrival in Washington this week puts the Harvard-educated technocrat back in the spotlight that he's frequented since his rise to China's highest political body last year. 
President Xi Jinping's top economic adviser will spend four days in the U.S. for trade talks with Treasury Secretary Steven Mnuchin, his second visit this year. An earlier round of talks this month in Beijing ended in discord.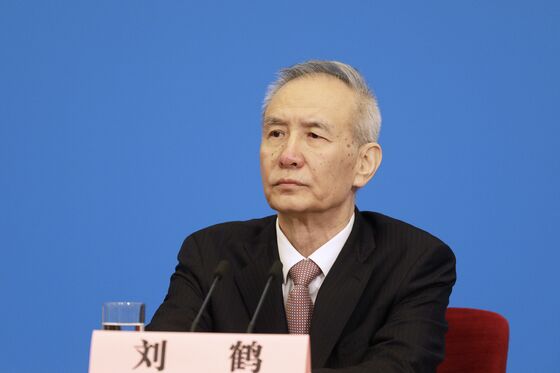 The outlook for avoiding a costly trade war between the world's two biggest economies looked grim after those engagements failed to make progress, but brightened after President Donald Trump's shock reversal of a ban on China's ZTE Corp. accessing American technology. Beijing praised the switch.
In addition to Mnuchin, Liu will meet with lawmakers, the Commerce Department, and the Trade Representative's office, according to U.S. Chamber of Commerce President Thomas Donohue, who added that there's a "high probability" Liu will also meet with Trump.
"He's going there to understand," Donohue told reporters at a briefing Tuesday in Beijing after meeting with Liu earlier this week. "He's a very, very smart economist and I'm sure he's looking to understand not only where everybody is but what's the best way to resolve this. I was impressed by how prepared he was."
Two days of meetings earlier this month ended with little to show except an agreement to keep talking, with China's state media acknowledging major disagreements on some issues. Heading into the talks, both sides outlined a series of tough demands, with the U.S. focused on reducing a deficit in goods that reached a record $375 billion last year.
Read More: Trade Talks End in Discord as Demands Show Wide Rift
Liu, who was appointed to the 25-member Politburo in October, has general oversight of economic policy in Xi's cabinet. Prior to his most recent trade brief, he had been working to steer the economy toward a more sustainable track as China seeks to both open up its domestic markets and rein in years of rampant borrowing.
A member of Xi's inner circle, Liu long helped guide economic policy as director of the Central Leading Group for Financial and Economic Affairs. He's also been vice chairman of the National Development and Reform Commission, the government's top economic planning body.
Known for guiding policy behind the scenes, the 66-year-old Cultural Revolution survivor took the baton from Vice Premier Ma Kai. But as China's point person for handling trade relations with the U.S., Liu commands more power than his predecessor.
A former soldier and factory worker who was sent to China's northeast during the 1966-76 political upheaval, Liu helped draft the five-year plans that underpinned the economy. He spent much of his career in the State Planning Commission, the predecessor of the NDRC that formerly set prices for everything from bicycles to grain.
Liu has also built up an extensive network in the U.S. during his career. As global markets cratered during the financial crisis, then-Treasury Secretary Timothy Geithner and National Economic Council Director Lawrence Summers separately made time for Liu, a link to top leaders in Beijing, Bloomberg News reported at the time.
Liu is like a combination of Summers and Ben Bernanke, plus the chairman of the president's economic council, according to Shen Jianguang, chief Asia economist at Mizuho Securities Asia Ltd. in Hong Kong. Shen calls Liu "the brain" behind supply-side reforms to cut overcapacity and boost market forces, and a key figure in shaping economic policy.
Liu entered Beijing's Renmin University in the late 1970s, earning a degree in industrial economy, according to a biography from China's Xinhua News Agency. He studied business at Seton Hall University in South Orange, New Jersey, and earned a masters' degree in public administration at Harvard's Kennedy School of Government in 1995.