China Data Shows a Hint of Slowdown While Factories Still Hum
(Bloomberg) -- China's economic momentum broadly held up in April with industrial production exceeding forecasts, though slowing investment signaled a moderation in the coming months.
Industrial output rose 7 percent in April from a year earlier, the statistics bureau said Tuesday, versus a projected 6.4 percent in a Bloomberg survey and 6 percent in March. Retail sales expanded 9.4 percent from a year earlier, versus a forecast 10 percent, Fixed-asset investment rose 7 percent year-on-year in the first four months, compared with an estimated 7.4 percent.
The reports are among the first official readings unaffected by the Lunar New Year holiday, which skewed year-on-year comparisons for the first three months. The mixed data confirm a picture of an economy already in a gradual cyclical slowdown, at a time when it is facing risks ranging from trade tensions with the U.S. to an ongoing campaign to curb excessive debt.
"Regulatory tightening in China's financial system is starting to drag on growth," said Frederic Neumann, co-head of Asian economics research at HSBC Holdings Plc in Hong Kong. "Fixed-asset investment, especially infrastructure, may slow further in the coming months as tighter financial regulations, especially regarding shadow banking, are starting to bite."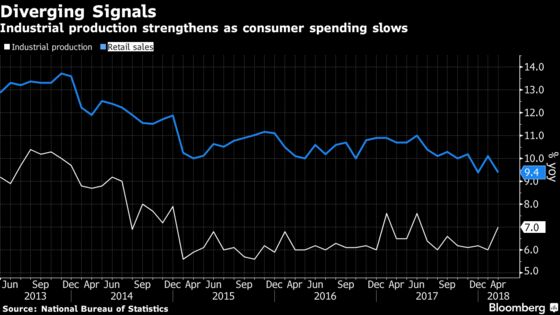 A key indicator of performance for the rest of the year lies in the real estate sector. Property development investment in the first four months expanded 10.3 percent from the same period a year earlier.
"Infrastructure investment has been slowing for a while but property investment is still holding up and we're not expecting that to slow until going into the second half of this year," Donna Kwok, a senior China economist at UBS Group AG in Hong Kong, said in a Bloomberg Television interview. "Moderation is underway but it's taking its time."
The slowdown in infrastructure investment is partly due to government efforts to slow wasteful public-private joint investment and curb local government debt, said National Statistics Bureau spokeswoman Liu Aihua at a briefing in Beijing.
"Total demand is showing signs of weakening, which is closely related to the ongoing deleveraging and also the tightening of PPP projects," said Liu Xuezhi, an analyst at Bank of Communications Co. in Shanghai. "The external shocks aren't as big as expected, and the economy in general is still stabilizing despite the slight slowdown."
What Our Economists Say: 

"Policy makers appear to be taking few chances, with a reserve requirement ratio cut, a weaker yuan, and a slightly different inflection in official statements all flagging a pro-growth tilt," Bloomberg economists Fielding Chen and Tom Orlik wrote in a report.
Though rhetoric around the trade dispute with the U.S. remains heightened, it hasn't yet hit the economy, said the statistics bureau's Liu. Vice Premier Liu He, who is President Xi Jinping's top aide for economic matters, will travel Tuesday to the U.S. for trade talks with Treasury Secretary Steven Mnuchin, the Ministry of Foreign Affairs said Monday in Beijing, a potential avenue for further easing of tensions.
There are clouds on the horizon for exports, said Rajiv Biswas, chief Asia-Pacific economist at IHS Markit in Singapore. The Caixin Media Co. and Markit Economics Ltd. manufacturing gauge's reading for booked shipments dropped to the weakest level since June 2016 last month and the sub-indexes of an official manufacturing gauge tracking new export orders both declined.
To contact Bloomberg News staff for this story: Xiaoqing Pi in Beijing at xpi1@bloomberg.net
With assistance from Editorial Board