10-Year High in U.S. Core Inflation Less Exciting Under the Hood
(Bloomberg) -- U.S. inflation in July, excluding noisy food and energy prices, was the highest since 2008 at 2.4 percent. A closer look suggests there probably isn't much cause for concern at the Federal Reserve.
Excluding shelter costs, U.S. services inflation edged down last month.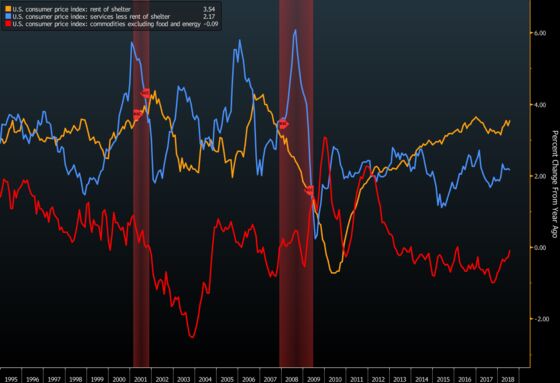 Central bankers pay close attention to services inflation because it correlates more closely with domestic labor market conditions than goods inflation, which has long been held down by global forces. But removing shelter from the services index shows that, outside of rent, most services prices don't correlate well with the unemployment rate either.
A look under the hood of the shelter component also shows there's less to the 10-year high in core inflation than it seems at first blush. Rent of shelter includes both rental inflation and lodging away from home -- a category which includes hotel rates.
While rental inflation ticked up slightly in July, it's still well below its peak for this expansion so far in late 2016. Outsize gains in the overall rent of shelter component were driven by a pop in the noisy lodging away from home index.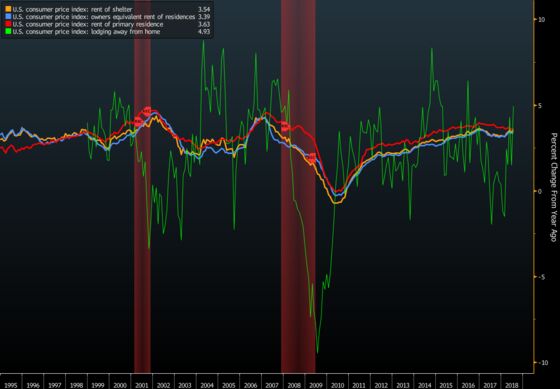 The so-called Phillips curve relationship between unemployment and inflation hinges on the outlook for rental inflation. Without a stronger pickup in rents, it will be harder for a low unemployment rate to propel core inflation past the 10-year high it achieved in July.