This Has Changed Everything: Oil Shakes Saudi Economy
(Bloomberg) -- The meltdown in oil markets is turning back the economic clock for Saudi Arabia, putting it on track for the deepest contraction in two decades.
Already under lockdown to contain the spread of the coronavirus pandemic, the world's largest crude exporter is bracing for a second impact from the oil rout and unprecedented production cuts negotiated by OPEC and its allies. Both will slash government revenue, and in turn derail a fragile economic recovery. Brent crude traded at under $19 a barrel on Tuesday -- a quarter of the level Saudi Arabia needs to balance its budget -- leaving officials with limited options to offset economic pain without crippling public finances.
"This has changed everything," said Monica Malik, chief economist at Abu Dhabi Commercial Bank. "So much of the recent recovery was based on the fact that the oil price had been above $50-$60, providing support to economic activity, and that's just been decimated."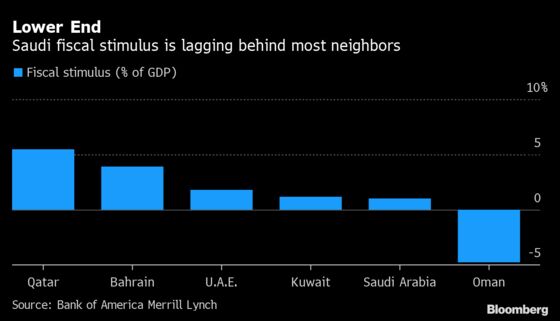 The setback presents difficult choices for Crown Prince Mohammed bin Salman. After the last oil price slump, from 2014 to 2016, he announced a major economic transformation plan. While officials have made significant progress -- developing fledging sectors like entertainment and lifting non-oil revenue with taxes and fees -- the economy still hinges on crude. Now the price shock is threatening many of the government's gains, making it difficult to fund projects and investments when over 60% of revenue this year was meant to come from oil.
Ricardo Hausmann, an economist at Harvard University, compared the situation facing Saudi Arabia to "war being fought on at least two fronts," according to a recent presentation for Saudi officials, seen by Bloomberg, that outlined the dual hit from the pandemic and the oil crisis.
"Each shock in itself is huge," Hausmann wrote. "Both at the same time makes things much more complex."
So far, Saudi Arabia has reported one of the lowest rates of Covid-19 infection in the region, with less than 12,000 cases among 34 million people. That's partly due to aggressive measures to slow the spread, steps that are also shutting down swaths of the $779 billion economy.
When the government put major cities under a 24-hour curfew this month, business surged for Ayman Alsanad, co-founder of one of the kingdom's most popular delivery applications. He was sleeping four hours a night as his company, Mrsool, rushed to recruit couriers to meet the spike in demand from people stuck at home. But even as he commended the government's help for companies, he said he was concerned about the looming oil crisis.
Read more: What the Pandemic, Oil Price Collapse Mean for Saudi's Peg
As oil prices in the U.S. plummeted below zero for the first time in history, Saudi phones pinged with text messages and tweets asking what it meant for the kingdom.
The collapse in the price of West Texas Intermediate crude has little direct impact for Saudi Arabia, since it sells only about a 10th of its oil to the U.S. The kingdom's fate is more closely tied to the price of global benchmark Brent crude, which is also falling, in part because of low U.S. prices.
"Yesterday's price slump was psychologically very important," said Eugen Weinberg, Commerzbank AG's head of commodity research. "There is a possibility it will change perceptions forever."
The price rout was partly caused by a supply surge during a bitter oil-price war between Saudi Arabia and Russia -- but underlying it is expectations of a drawn-out period of lower demand. Warnings from U.S. President Donald Trump that he'll consider blocking imports of crude from Saudi Arabia only add to concerns.
Many Saudi business owners were looking forward to 2020 after several tough years. Now, economists say they can hardly cut their forecasts fast enough.
Gross domestic product could shrink more than 3% this year in what would be the first contraction since 2017 -- and the biggest since 1999 -- according to Malik. Unemployment is poised to spike as businesses struggle to stay afloat.
The government's budget deficit could widen to 15% of economic output, said Mohamed Abu Basha, head of macroeconomic analysis at investment bank EFG Hermes in Cairo. The fiscal shortfall reached 4.5% last year after peaking at just over 17% in 2016, according to the International Monetary Fund.
What Our Economists Say...
"Saudi Arabia is facing exceptional circumstances, which might warrant a blank check to protect the economy from permanent damage. Debt sustainability will not be determined by this year's deficit, which could balloon if policy enters a crisis-management mode, but by how fiscally disciplined the government will be when normalcy resumes."

-- Ziad Daoud
Despite the grim outlook, many Saudis are grateful for officials' swift response to the pandemic. Business owners say that the government's stimulus package saved them from collapse. A few weeks ago, Faisal AlSager -- who employs more than 1,500 people at a firm that provides call centers and customer-service solutions -- was on the verge of laying off workers as clients pulled back.
But when the government announced it would cover 60% of salaries for some Saudis in the private sector, his company, Etisal International, suspended layoffs.
"Such measures taken by the government will help us at least survive," he said.
So far, officials say they plan to borrow more to fill the widening budget gap, and have announced only minor spending cuts. Fawaz al-Fawaz, a Saudi economic consultant, said the government has significant reserves and a low debt-to-GDP ratio compared to other big economies. He pointed out it wasn't the first time Saudi Arabia had lived through an oil crash.
"The cyclicality of the oil industry is not new to the Saudi decision makers," al-Fawaz said. "They have seen this drama before, so they have experience."