'T' Is for 'Transitory,' Not 'Trump,' as Fed Finds Way to Excite
It wasn't Trump, trade, or tightening that made the most explosive headlines out of the Federal Reserve's decision, which brought back another T-word around inflation to keep everyone guessing as to whether a Fed interest-rate cut could actually happen this year.
And it was a big week for global economic data, with Europe showing signs of brightening despite a truly mixed bag elsewhere.
Here's our weekly wrap of what's going on in the world economy.
The interest-rate hold was all but assured amid upbeat U.S. economic data, but Jerome Powell's inflation comments had markets and analysts riled up. The Fed deemed subdued price growth "transitory," reviving a popular Yellen-era tag and damping calls for a slashing of the benchmark rate. The Fed did attempt to nudge that rate lower by other means.
Powell again pledged to ignore short-term politics, and economists are decrying as dangerous the kind of Fed juicing that President Donald Trump urges. The Fed could look instead to its 1995-96 playbook. Another Trump pick for the U.S. central bank pulled out just after disagreeing with the president over a rate cut — all raising questions about the White House's vetting process for the Fed.
The Fed decision gifted more patience to global policy makers. Elsewhere, the European Central Bank caught a break as brighter growth data quieted cries for more stimulus. The oil price run-up complicates things for officials, including in the Philippines, where it's stalling a rate-cut plan that's become "a matter of timing." The Bank of England left rates on hold, but said it would hike by more than investors are predicting if the U.K. successfully manages a smooth exit from the European Union. And the Czech central bank signaled a prolonged period of stable interest rates after raising borrowing costs to the highest level in a decade.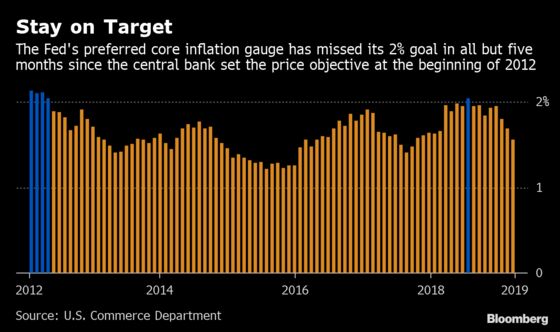 The bar is even higher for a U.S.-China pact. Treasury Secretary Steven Mnuchin hyped expectations, calling the Beijing talks "productive" after pledging that a deal was "close to done." The White House chief of staff reiterated that the U.S. is ready to walk if a deal stalls. Both sides feel the pressure for to sign something, given U.S. farmer income is in the doldrums and Asia's export engines are seeing weaker production. One sign of progress: China showed an incremental market opening.
This week's trade winners are Taiwan, which is bringing business home amid tariff pressures in China, and Cambodia, which has secured China's aid in the event that the European Union cancels its tariff-free status.
It was a decidedly mixed week for economic data. The euro area celebrated a bit of a first-quarter growth spurt and Italy's skirting of recession while French growth kept pace and German joblessness ebbed. While that couldn't stop a loss of confidence in the region, inflation numbers provided a positive surprise. U.S. hiring topped forecasts in April as the jobless rate dipped to a fresh 49-year low and wage gains were slightly cooler than projected, suggesting the still-healthy labor market can continue to support growth without fueling inflation. China also saw a softer manufacturing PMI, as did about half of Asia's export engines. More for the bears: Canada's economy shrunk, and there are now 13.4 million people out of work in Brazil.