'Outsized' U.S. Yield Jump Jolts Even Those Who Expected a Rise
(Bloomberg) -- The U.S. bond market may have gotten ahead of itself.
While yields have climbed through most of this year as the Federal Reserve persisted with steady policy tightening amid strengthening inflation, this week's sudden spike caught many by surprise. Even for JPMorgan Chase & Co., which has been anticipating higher yields, Wednesday's 12-basis-point surge in 10-year rates may have been a bit too much to take in one day.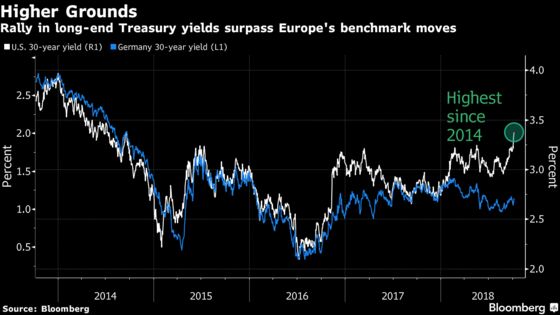 The bond slump came amid upbeat American jobs data and Federal Reserve Chief Jerome Powell's comments that the ongoing rate-increase cycle could continue "effectively indefinitely" on the back of economic strength. The rout in Treasuries, which dwarfed moves in German bunds, saw 30-year yields rise above 3.25 percent, a level that fixed-income veteran and DoubleLine Capital LP co-founder Jeffrey Gundlach once called a "game changer."
"The reaction in Treasury yields, particularly at the long end of the curve, seems outsized in nature compared with the reactions in Europe and the positive domestic data flow," JPMorgan strategists at including Jay Barry, who have been predicting higher yields in recent weeks, wrote in a client note. The bank's Chief Executive Officer Jamie Dimon said in August that the U.S. should be prepared to deal with higher interest rates, including the benchmark 10-year bond yield at 5% or higher.
The size of the move may have been due to technical factors that came into play once the 10-year yield rose above the previous year-to-date high, as well as the typical price "concession" seen as investors position for a scheduled debt auction, according to the U.S. bank. The rate on Treasuries due to mature in a decade climbed as high as 3.23 percent Thursday, the highest since 2011. That on 30-year debt hit 3.39 percent.
Mid-month supply details from the Treasury are due later Thursday, with JPMorgan estimating the size of the offering at $74 billion, of which $36 billion are for three-year notes, $1 billion larger than last month.
Treasuries Still Attractive, Add Longs at 3.20%, Citigroup Says
While this week's jump in yields may have overshot expectations, Sarasin and Partners Chief Investment Officer Guy Monson thinks the trend may have room to extend, thanks to the "extraordinary economic experiment" that is President Donald Trump's fiscal stimulus.
"As long as the backup in bond yields is gradual, I'm afraid it just continues relentlessly and I am much happier with a 4 percent target than a 3.5 percent target" on 30-year yields, he said. "To reverse the effects of this massive stimulus you're going to need quite an aggressive move at the long end. I think it is Trump versus the bond market and this playbook's got a long way to go."