Water Cannon Fails to Move Holed-Up Protesters
(Bloomberg) -- Hong Kong police fired tear gas and deployed a water cannon to try to clear a resistant band of protesters who occupied a university near the Tsim Sha Tsui district and blocked roads in the vicinity.
Police launched round after round of tear gas and repeatedly sprayed a blue-dyed liquid toward the demonstrators holed up at Hong Kong Polytechnic University. Streets surrounding the campus were littered with bricks and other obstacles to keep the police at bay. Protesters shielded themselves with umbrellas and lobbed petrol bombs as the overnight standoff stretched into Sunday afternoon.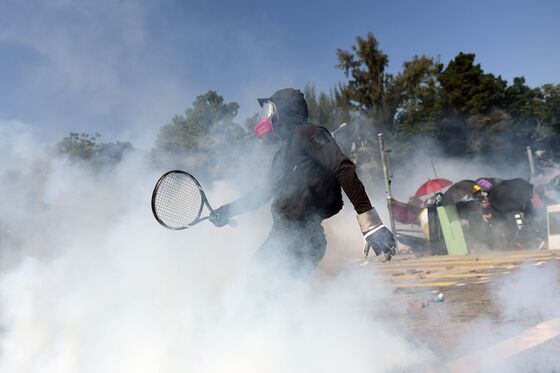 On Friday, a five-day face-off between protesters and police at Chinese University of Hong Kong ended as the activists evacuated their makeshift fortress. Earlier, vice chancellor Rocky Tuan made a fresh appeal for demonstrators, who had built barricades and taken over a number of buildings, to leave the campus.
The city's government is trying to step up measures to halt escalating violence in the financial center after a week that saw countless incidents of vandalism, angry clashes between opposing sides and two deaths linked to the conflict.
Government suspends schools for another day
Police officer on leave after firing sponge grenade at media
PLA soldiers help clean up
City's second-highest-ranked leader promises measures to halt violence
Two German citizens reportedly detained by police
Here's the latest (all times local):
Officer suffers arrow wound (2 p.m.)
A police media-liaison officer was admitted to hospital after he suffered an arrow wound to his leg, police said in a statement. The officer was injured when protesters charged at police and used bricks, petrol bombs, and bows and arrows to attack them near Polytechnic University, according to the statement.
Police deploy water cannons (1 p.m.)
Police deployed a water cannon to try to drive protesters out of Polytechnic University. After officers repeatedly fired a blue-dyed liquid from the vehicle toward the protesters, the standoff continued as the sides watched one another from across the rubble-strewn intersection, normally a busy traffic crossing.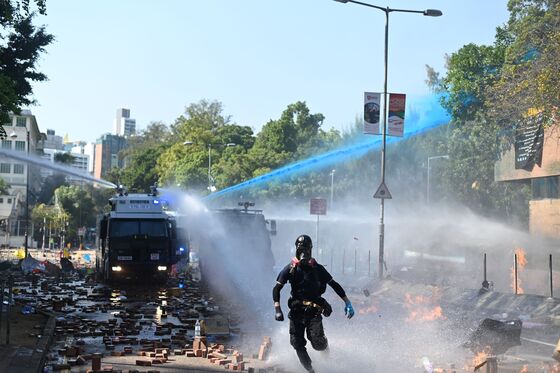 Schools suspended (12:00 p.m.)
All schools would remain suspended on Monday because of safety concerns, the Education Bureau said in a statement. While classes are halted, the premises must remain open for students who need to go to school, and staff need to be arranged to look after the children, it said.
If the situation allows, classes will resume on Tuesday, the bureau said.
Airport traffic (11 a.m.)
Hong Kong International Airport handled 5.4 million passengers in October, 13% fewer than a year earlier, and saw 34,300 flight movements, down 6.1%, Airport Authority Hong Kong said in a statement. Cargo throughput dropped 5.5% to 428,000 tonnes, it said.
Face-off continues (10 a.m.)
Police and protesters faced off Sunday outside Polytechnic University where activists had taken refuge. The officers fired rounds of teargas to try to disperse the crowd, which appeared to be a couple of hundred people, but the demonstrators returned to their position at the main traffic intersection near the campus after the clouds of smoke thinned.
The clashes started when protesters threw objects at people trying to clean up the area on Saturday. Riot police moved in and tried to disperse the demonstrators, who retreated into university property and then returned to fling firebombs toward police.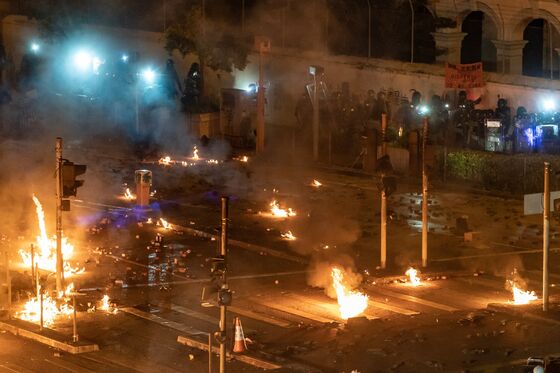 Police officer put on leave (9:47 p.m.)
Hong Kong police are investigating an incident where an officer fired a sponge grenade while asking reporters to leave the scene during clashes with protesters early on Saturday. The officer involved is currently on leave, according to a statement from the government.
Various media reports said a riot police officer fired a 40mm react round at a Commercial Radio reporter. Police reiterated that they fully respect the freedom of the press.
In a separate development, the police and protesters are clashing outside the Hong Kong Polytechnic University where petrol bombs and tear gas have been exchanged.
Residents in Pokfulam and Kowloon Tong banded together to clear the blockaded streets, forming human chains to load skips of the bricks and rubble that covered the area. PLA soldiers in Kowloon Tong ferried buckets and wheelbarrows of debris off the roads before returning to their base in the district, RTHK reported.
Chinese troops have been stationed in Hong Kong since the British handed the city back to China in 1997. But the city government has never requested deployment. In 2018, more than 400 soldiers helped clear fallen trees following Typhoon Mangkhut, the first time they had undertaken such a role.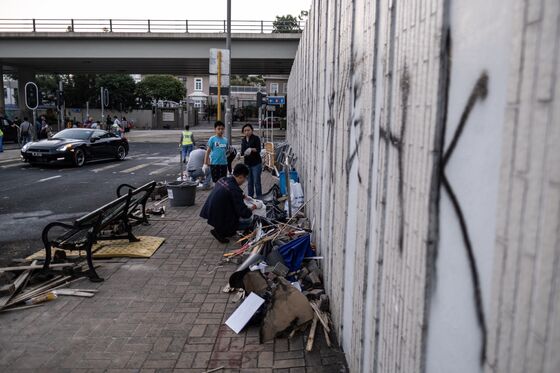 University occupation ends (3 a.m.)
Protesters who occupied the CUHK campus for about a week have left the campus, according to a university spokesman. Police and workers cleared the streets early Saturday and all lanes were re-opened on Tolo Highway, which had been blocked by demonstrators.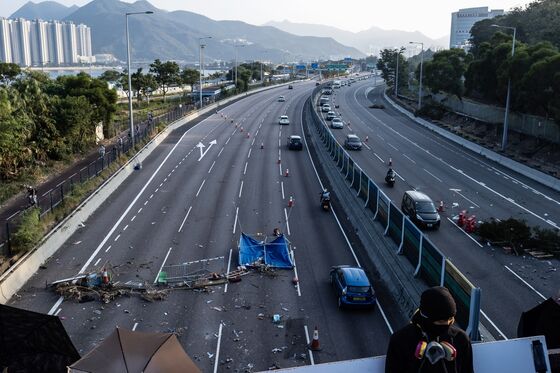 German Citizens Reportedly Detained by Police (2:31 a.m.)
Two German citizens were detained by Hong Kong police amid the continuing protests, Deutsche Welle reported, citing an official at Germany's foreign ministry. They are receiving assistance from the country's consulate in Hong Kong, according to the report. Police in Hong Kong said two foreign men were detained during a demonstration in Tuen Mun, according to Reuters.
Chinese University of Hong Kong Appeals To Protesters To End Siege (Sat. 12:27 a.m.)
CUHK vice chancellor Rocky Tuan appealed to protesters to stop their siege of his campus, urging them in a letter to leave the university. The university had previously canceled classes for the remainder of the semester and asked students and staff to leave the premises. He said that if the university can't clear out the protesters, it would have "no choice" but to ask the government to help resolve the situation.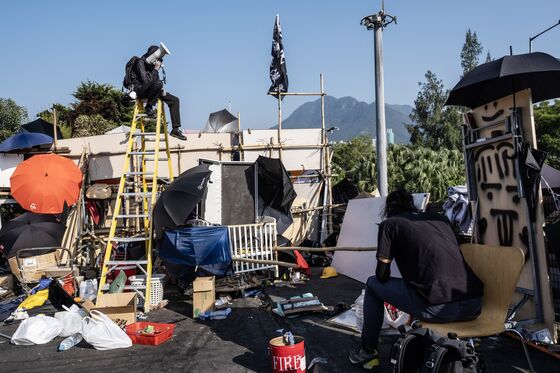 University heads call for all to 'work together' to bring peace (10:45 p.m.)
Nine university presidents urged the government to take the lead in ending the political deadlock and restoring order as their campuses become "major political battlefields," according to a joint statement.
Demands that university disciplinary processes can fix the problem are "disconnected from reality" and the government's response so far has not been effective, they said. "We call on all quarters of society to work together to bring peace and order back to Hong Kong."
City's No. 2 vows more measures (6:07 p.m.)
Matthew Cheung, the city's chief secretary, promised "more decisive measures" to halt protest violence, including suspending civil servants who are arrested during demonstrations. Cheung -- joined by Civil Service Secretary Joshua Law, Transport Secretary Frank Chan, Education Secretary Kevin Yeung and Constitutional and Mainland Affairs Secretary Patrick Nip -- said departments would step up coordination.
While Cheung declined to rule out further invocations of the city's powerful Emergency Regulations Ordinance, he reaffirmed the city would hold District Council elections as planned Nov. 24.
Overwhelming support for inquiry (4:45 p.m.)
Some 80% of Hong Kong adults want the government to set up an independent commission of inquiry to examine the use of force by police throughout Hong Kong's recent unrest, according to a new survey by Hong Kong Public Opinion Program. That's up from 77% earlier this month.
An inquiry is one of the five demands that protesters have been chanting about in marches throughout the city for months, but the government has so far ruled out any further political concessions.
For more on Hong Kong's unrest:
Hong Kong Protesters Stage Sit-In as Unrest Cripples City: Photo
Hong Kong expects recession (4:30 p.m.)
Hong Kong revised down its estimate for economic growth this year, with the government now forecasting the first annual contraction since the global financial crisis a decade ago. Gross domestic product will contract 1.3% in 2019 from the previous year, the government said Friday as it released final output calculations for the third quarter.
The government said ending the city's violent unrest is key to an economic recovery.
Police classify death as murder (1:31 p.m.)
Police upgraded their probe into the injury of a 70-year-old government worker to a murder investigation after the man died overnight. The man was struck in the head by an object during a scuffle Wednesday between protesters who had set up road blocks and others who were attempting to clear them.
The man appeared to be filming in the direction of a group of black-clad protesters when one of them "deliberately threw" an object at him, Chan Tin-chu, senior superintendent for criminal investigations in New Territories North, told reporters at a briefing Friday. The victim didn't participate in the argument or the attempt to clear the road blocks, Chan said.